We regret that Bristol ABC will not be holding its monthly letter writing session on 12 August. This is due to some of us being away, other activities, and the fact that our venue (Kebele social centre) is undergoing a major kitchen/cafe refit. Monthly letter writing sessions will return in September, on the second Wednesday9 September, and you can also find us at the Bristol Anarchist Bookfair on 12 September.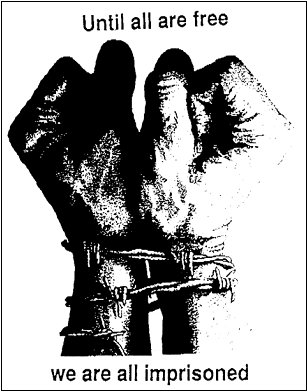 BUT dont let that stop you writing to prisoners, there is no shortage, so see our prisoner list and that of Brighton ABC. In particular we ask everyone to write a letter of support and birthday greetings to Elijah Smith (aka James), the only one of the 6 Bristol EDO Decommissioners still languishing on remand in prison.
It is James's birthday on 16 August. Send your piece to: Elijah Smith, VP 7551, HMP Lewes, 1 Brighton Rd, Lewes, Sussex BN7 1EA. That will be exactly 7 months on remand. Innocent until proven guilty? Not in HMP UK.
James has been stuck in HMP Lewes since his last, failed, bail request in Brighton. At that the EDO CEO turned up in court, and whilst this grinning dealer in death is allowed the liberty to assist in the jailing of his opponents, those same opponents are punished for exposing him. In short James gave him a mouthfull from the dock, and the judicial system's petty response is to keep him in Lewes far from his friends in Bristol.
James in in effect on remand for 2 cases now, the EDO factory decommissioning, and the Bristol Raytheon rooftop protest last December/January. The EDO case is due in court in Brighton on 26 October, however James should be back in Bristol (HMP Horfield) around the 23 August for the committal hearing in relation to Raytheon on 24 August – we believe this will be at Bristol crown court, and there needs to be a solidarity picket. It remains to be seen if James is then left to languish at HMP Horfield, or returned to HMP Lewes? Watch this space and keep and eye on the EDO Decommissioners and the Smash EDO sites – both groups will also be at the Bristol bookfair.
Solidarity!