The sudden media obsession with police misbehaviour, since the G20 protests and death of Ian Tomlinson, may lead you to think that the cops are normally very nice people who only help old ladies across roads and catch naughty youths stealing apples. In fact the cops have a very long, and to them proud, history of brutality and repression.
Some have raised the similarities between Tomlinson's death and that of Blair Peach back in April 1979. Beyond the brutal deaths themsleves however, there are other reasons for those new to police violence to look back to Peach and the related histories of the late 70's and early 80's. In the interests of relevant history, and popular education, we therefore reprint below an article 'The Political Legacy of Blair Peach', published as a 'comment' piece on the Institute of Race Relations website on 23 April 2009.
Whilst this is a very informative article, it doesn't fully convey all that was going on in Britain at that time in a social context. It was a time of Thatcherism, recession, poverty, racism, right-wing fascist bootboys, police brutality, riots and resistance. The working class was fighting back at work and on the streets, and black youth particularily resisted the hated 'SUS' laws, as inner cities exploded from Liverpool to London, and Bristol too. This article 'Police violence and death – an old story' helps set the scene. And 'Remembering Blair Peach 30 Years On' tells us both more about Peach and the times themsleves. Not the most radical of testimonies maybe, but useful references. Read on…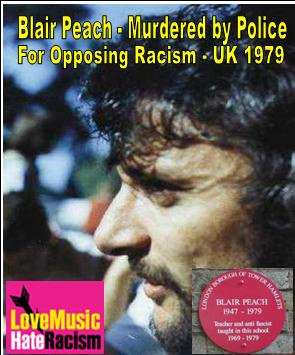 The political legacy of Blair Peach
(by Jenny Bourne)
From the death of Blair Peach on 23 April 1979 emerged a series of political struggles, which must never be forgotten…
People are, inevitably, comparing the death of Ian Tomlinson at the hands of a Territorial Support Group officer with the death thirty years ago of Blair Peach at the hands of a Special Patrol Group officer. What we have now is the 'incontrovertible' evidence from phone images and CCTV cameras, as opposed to the statements from eyewitnesses caught up in the melee of Southall on 23 April 1979. What we have now are legal teams aware of the vagaries within pathologists' opinions.
What is overlooked today is that the political struggle that followed the death of Blair Peach at the hands of brutal police was as significant to the politics of the 1980s as the death of Stephen Lawrence at the hands of racists was to be two decades later. For Blair Peach's death became a focal point for those who questioned the nature of the Special Patrol Group and the general lack of police accountability which that force epitomised. And, from the agitation of
Blair's family, especially his partner Celia Stubbs, about the inadequacy of the inquest system and the secrecy surrounding the coroner's court and the evidence withheld from the family, was created the organisation INQUEST. Two crucial legacies.
Complaints about the SPG
The Special Patrol Group (SPG) was created in 1965 as a para-military unit of the Metropolitan police to provide a centrally-based mobile squad for combating public disorder and crime. (In 1986 its name was changed to the Territorial Support Group.) In 1973 the public first really became aware of its existence when two young Pakistani men, holding toy guns, demonstrated at India House and were shot dead. There were, however, community concerns about the force being voiced throughout the 1970s: around for example raids on the Mangrove restaurant and Metro club in Notting Hill, about mass operations in Lewisham in 1975 over a spate of 'muggings'. (In 1975 the SPG stopped 65,628 people to arrest only 4,125.) But such complaints came from within the Black community and were often around local issues and raids. No one was really prepared to listen.
During the Grunwick dispute of 1976-8 and the policing of a mass mobilisation against the fascists in Lewisham in August 1977, however, the police and especially the SPG brutality was there in full view. And though the 1978 TUC annual conference passed a resolution calling for a public inquiry into their activities, the media, by and large, perceived and portrayed these events as battles between two ruthless factions, neither with right on its side. (This was certainly the case in the reporting in 1974 when Kevin Gately died during a demonstration against the National Front in Red Lion Square in which the SPG was involved.) And very often show-downs between anti-fascists/anti-racists and police were seen as outsiders fighting on someone else's turf with too little regard being paid by anti-racists to the involvement of local people who ultimately paid the price of street battles.
Southall and the death of Blair Peach somehow broke up those misconceptions. It revealed abuse of power, a force within a force, which operated outside the rules. It also served to show up most starkly what Black communities had said for decades: that the freelance racial violence of individuals was being compounded by a more studied hostility, prone to morph into brutality, from police officers.
Death provoked massive sympathy
The death provoked a massive wave of public sympathy, much from within the community itself. Just days after the death, ten thousand people marched silently past the spot where Blair had been struck down; in June, eight thousand people mourned his passing as his body lay in state at the Dominion Theatre; thousands were later to his attend his funeral in East London. And June 1979 also saw a 2,000-strong first Black people's march against state harassment through central London.
For it was in June that Commander Cass, appointed by Metropolitan Commissioner David McNee to investigate the death, conducted a search through lockers belonging to SPG officers known to have been in the vicinity to where Blair was struck, revealing a whole host of non-police-issue weaponry: a leather-cased metal truncheon with knotted thong, a metal truncheon with a lead weighted end, a two foot long American-style truncheon, two sledge hammer handles, a rhino whip, one knife with 6-inch blade, two three-foot crowbars and a three-foot wooden stave. (According to left-wing investigative journalists, Cass had narrowed his suspicion down to six officers, and various papers went on to name them. He sent his report to the Director of Public Prosecutions who decided there was insufficient evidence to prosecute anyone – officers wearing riot gear were, apparently, impossible to identify.)
Commissioner McNee, who had refused to countenance criticism of the SPG by a Black journalist at a press conference earlier in the year, 'if you keep off the streets and behave yourselves, you won't have the SPG to worry about', now was being seriously challenged, alongside home secretary William Whitelaw to defend the SPG's existence. Recruitment was suspended for nine months while a (cosmetic) review was carried out – which decided merely to limit the term officers could serve and decentralise the command structure.
Though the government refused to hold an inquiry into police action and the Cass report was never made public despite numerous requests from the family, reports on the death of Blair Peach and the policing on 23 April were published by Southall Rights, the Commission for Racial Equality, and, most importantly, by the National Council for Civil Liberties, which held its own unofficial committee of inquiry. All condemned police action on 23 April and the handling of the subsequent trials of the 342 mainly Asian people charged with offences, following the 700+ arrests.
Policing – a political issue
But most significant was the way in which from the horror of that evening, policing emerged as a political issue at a community and then a local authority level. After Southall, saturation policing raids carried out by the SPG in Lambeth, Lewisham, Hackney and Brent were attacked by community leaders, all of who called for the disbandment of that force. Lewisham council threatened to withhold its police rate and Lambeth council set up its own eighteen-month inquiry into police-community relations.
After Blair's death, anti-racial violence campaigns in Southall coalesced into the Southall Monitoring Group – to campaign on both racial violence and police racism. Soon after, following the racist murder of Akhtar Ali Baig on East Ham High Street, the Newham Monitoring Project was set up in 1980 on the same basis to offer help and support to those suffering racist attacks and police harassment. Similar community monitoring organisations were to follow in other areas. By 1981, when the Greater London Council (GLC) was under the progressive leadership of Livingstone and others, policing was accepted as a community issue and a police committee with the capacity to support community initiatives across the metropolitan district was established. The GLC Police Committee directly funded over twenty local police monitoring groups. Soon, many Labour-controlled authorities followed this example and created their own police units to advise them on police accountability and community safety strategies. Blair Peach's death had, it would appear, made a section of the Labour Party give ear, at last, to what Black communities had been saying for over a decade.
Struggles over the inquest
While community groups and councils were busy politicising policing, the family and friends of Blair Peach were still in the process of struggling to find out how he died and whether anyone could be held to account for the death. Probably they had not expected to find much transparency from within police ranks – it was a well-known fact that the police policed the police – but, like many families before them, they did expect the inquest to yield more by way of truths about that evening.
But from the off there were problems. The coroner, the late Dr John Burton, did not want to call a jury and he did not want the inquest in a large enough venue to allow in members of the public. In fact throughout a protracted battle with him on the part of those representing the deceased, it became clear that he was doing all in his power to prevent what he regarded as a politicisation of the death. (It has since transpired that the Home Office intervened in 1980 to stop the coroner from publishing an article after the inquest because it revealed his obvious bias.)
It has to be appreciated that the death had taken place in west London and therefore the usual coroner's court would have been in Hammersmith. But the court was very small and the family argued, and at first the coroner acceded to their view, that because of the public interest a larger venue should be sought. The inquest was moved to Fulham town hall. But then Burton changed his mind, after he saw the number of members of the public who were interested, and moved the inquest, first to Battersea and then, in April 1980 when the full inquest would have been heard, back to Hammersmith again. That courtroom, with just forty seats, was so small there was no room in it for anyone save interested parties and their counsel and a handful of journalists. This was not to be a public hearing.
Perhaps Burton had thought at first that this would be an easy, simple inquest he could deal with quickly. He decided not to call a jury. The family, who had just forced him to move the inquest, were furious when he declared that he saw no reason to sit with a jury, and had to go through a protracted and expensive appeal system. Lord Chief Justice Lord Widgery turned down the family's application. But this was overturned at the Court of Appeal in December after the police's unofficial weaponry had been made public. A jury was called. But, unfortunately, this happened whilst the inquest was to proceed in Battersea. Thus, ultimately, when the inquest took place in Hammersmith, the jury members were not local and were in no way representative – in terms of colour or class – of the community in which the death had occurred.
Secrecy and discretion
And those were just the teething problems. The coroner refused to release to the family or their lawyers copies of the Cass report, although he was clearly relying on it when he cross-questioned witnesses and the police lawyers had copies. And then it was the coroner who decided, on the basis of that secret report, whom to call as witnesses. That left those representing the deceased with no way of knowing whether all or the most important witnesses had been called.
But the most controversial part of the coroner's conduct was the way in which he told the jury halfway through the inquest that there were two completely unfounded extreme theories about the death; the first, (and clearly idiotic one) being that Blair Peach had been killed by a co-demonstrator keen to create a martyr; the second (and clearly plausible one), that he had been killed by a policeman using an unauthorised weapon. By telling the jury to discount both extremist scenarios, he was clearly prejudging one of the key matters before it.
To add insult to injury, his summing up was confusing, rambling and deficient in relation to the law relating to unlawful homicide and manslaughter. Worse still was the way Burton told the jury that they should measure the degree of force used by the police with that reasonably required to control a riot. Yet it was not proven that there was a riot in progress in the area at the time. In fact Blair Peach was away from the centre of the demonstration, walking in the opposite direction, as he was going home, when he was hit from behind. Little wonder that the jury brought in a verdict of misadventure, rather than unlawful killing. Significantly, the jury felt disquieted enough to add three riders: that there be more control over the SPG and more liaison with ordinary police, that no unauthorised weapons be allowed in stations and that police be provided with maps of areas they were to police.
On the morning of 28 May 1980 the press conveyed the verdict to the world as 'SPG ABSOLVED BY PEACH JURY' (The Telegraph), 'PEACH JURY CLEARS SPG' (Daily Star), 'NOW SPG HITS BACK' (Daily Express). Yet family and friends knew absolutely that he had died as a consequence of a blow to the skull by a member of the SPG.
Uniting with other families
For them the fight had not ended, it had just begun. Just weeks after the verdict, members of the committee formed in Blair Peach's name sat down on 19 July with members of other committees formed around the deaths of Jimmy Kelly, Liddle Towers and Richard (Cartoon) Campbell. What emerged was that cover-ups in each case had been almost identical and that everyone was appalled at how the inquests had legitimised the wrongdoing of the authorities while keeping facts, and finally the truth of how a loved one died, secret. How could they pool their experiences and use them so that other families did not have to go unprotected through the same nightmares after a traumatic death?
By the summer of 1981 these family campaigns, with Celia Stubbs, Blair Peach's partner playing a crucial role, supported by concerned academics and human rights campaigners, met to link activities and campaigns in one common organisation with a united set of demands. They called it simply INQUEST.  At first its members just supported each other at pickets of police stations and coroners' courts and spoke in solidarity at meetings. But in 1982 it was able, through a grant from the GLC's police committee, to employ two workers to build up an information centre and provide support for families. And for twenty-eight years it has campaigned against deaths in custody, provided advice and support for families who want to know how and why their relatives died and campaigned for changes in the coroners' court system.
Out of the ashes …