The LibDemCons worst nightmare – anarchists zombies in the area!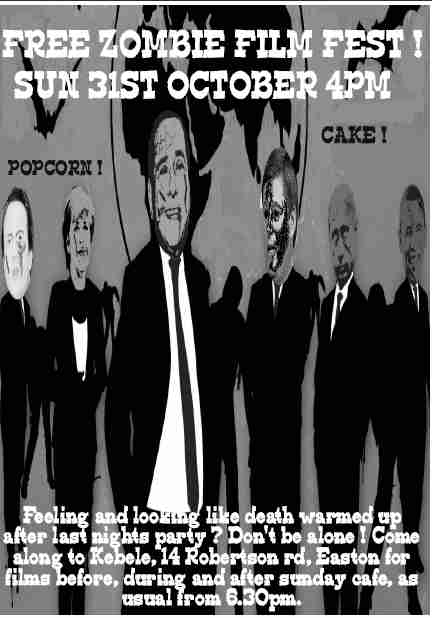 Bristol AF and ABC groups invite you to an (almost) apolitical zombie nite fundraiser this Halloween, down at our favourite undead venue, the Kebele social centre. There will be films from 4pm until late, with the usual Sunday vegan meal served around 6.30pm, plus all evening there'll be cakes, popcorn and various dubious liquids.
Films likely to be shown may include sad comedy zombies in Zombieland; French zombies in La Horde (although they may go on strike); and nazi zombies in Dead Snow (relax, they're not as ugly as the EDL).
The meal costs the usual donation, snacks & drinks are by solidarity donation, the films and fancy dress are free. Hunting the rich at midnight is up to you!
From 4pm at Kebele social centre, 14 Robertson Rd, Bristol BS5 6JY
ENJOY!