Frack Free Bristol presents a Frack Free Festival (that's family friendly!) In solidarity with the Mi'Kmaq Indigenous Canadian people resisting Fracking on their lands. (See info at bottom of page)
Bristol ABC will be doing a stall & have cards for the current prisoners. Please promote!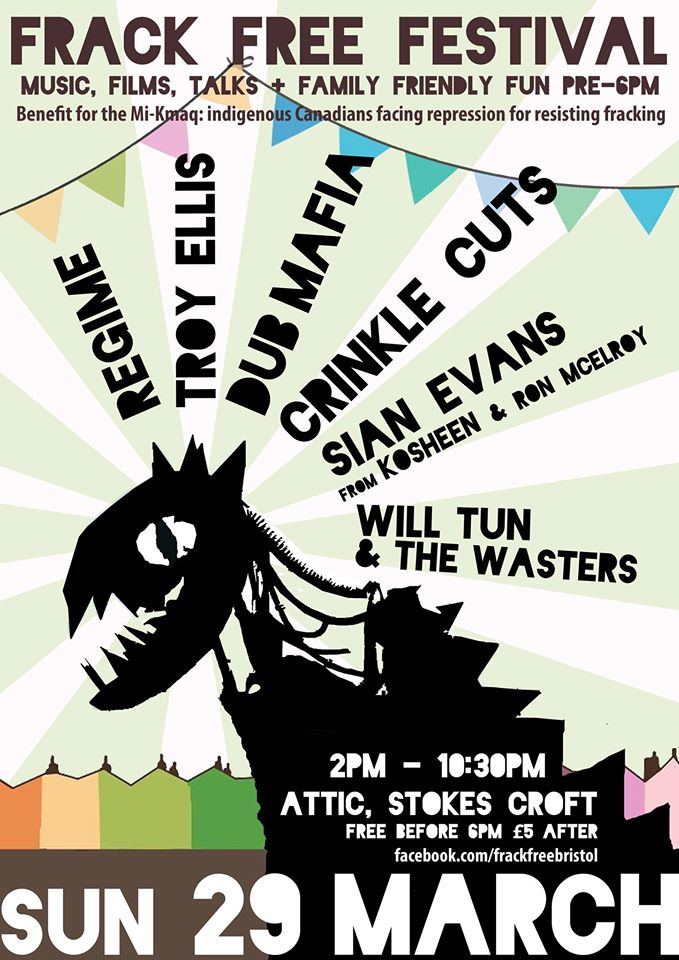 From 2:30-6pm there will be a family friendly day of free activities (all donations welcome) including: face-painting, 8 foot tall puppet dinosaurs, 'Bat-a-Frack' interactive drilling rig, environmental colouring in sheets, live films, Q&A talks. stalls & displays opening out onto Stokes Croft.
Free entry from 2:30-6pm. Music £5 entry afterwards:
DUB MAFIA: The seven-piece band – who blend drum and bass, dub, dubstep, bashment, breakbeat and world music into their own unique sound (with a strict policy of 'no backing tracks' – ever), Dub Mafia have become one of the most popular dance acts in the UK & Europe.
https://www.youtube.com/watch?v=txjrnlOuls4
http://dubmafia.bandcamp.com/album/sirens
SIAN EVANS & RON MCELROY: Sian Evans, singer of Kosheen, teams up with guitarist Ron McElroy for a unique and magic collaboration. Usually playing huge venues with her band, the two artists are going to be bringing the fire and passion of Kosheen's music to a stripped down and beautiful acoustic performance. Not to be missed!
https://www.youtube.com/watch?v=C1wKKXYQsrI
TROY ELLIS & HIS HAIL JAMAICA BAND: Troy is one of the sons of the legendary Alton Ellis OD, born in Trench Town, Kingston, Jamaica. Studio One, Treasure Isle, Coxsone & Channel One studios are places his dad took him where he learn't to familiarise himself with artists and inspirational characters such as Bob Marley.
https://www.youtube.com/watch?v=CW2ojjLs4WM
WILL TUN & THE WASTERS: Dancing forward on the ale swilling, table stomping feet of Folk, the piston pumping, train fare jumping legs of Ska, the dusty, husky, seductive hips of Balkan Gypsy, Will Tun And The Wasters are on a world-wide mission to get everyone involved!
http://willtunandthewasters1.bandcamp.com/
CRINKLE CUTS: Fresh with a capital PH, Crinkle Cuts deliver you a blasting of tantric funk, smooth reggae and new-wave latin ska woven together in a bombastic psychedelic tapestry of good vibes for an eccentric, exotic and eargasmic live performance.
http://crinklecutsmusic.bandcamp.com/
REGIME: Tackling issues such as drug abuse, arms dealing and government oppression, Regime speak directly to the hearts and minds of free thinking people. Social and political commentaries are blended seamlessly with hip hop, reggae and rock to make audiences jump, laugh and think.
http://www.regimesound.com/music/
http://www.theguardian.com/environment/2013/oct/21/new-brunswick-fracking-protests