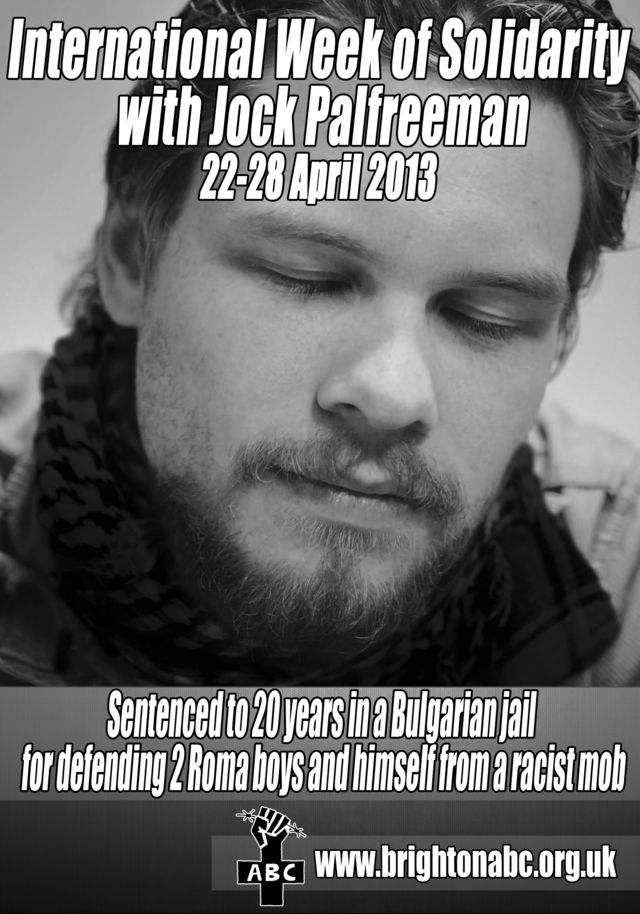 A call out for solidarity with Anti-fascist prison resister Jock Palfreeman
We are urgently calling all anarchist, anti-fascist and other anti-authoritarian left wing groups to act in solidarity with Jock Palfreeman (full story of his case is in the attached appeal below). Jock has already served several years of his 20 year sentence in Bulgaria. He actively works towards organising his fellow prisoners and highlights cases of repression by the prison authorities. He is one of the founders of the Bulgarian Prisoners Association. In the last few years, the response to his imprisonment and calls for solidarity with him from the anarchist and anti-fascist movement have been underwhelming. He needs more groups and individuals to join the campaign for his freedom. His family and some liberals have been organising support for him and trying to raise money for his fine; but Jock was always asking for a more direct kind of solidarity other than just politely asking the authorities to be nice. He needs people to not only constantly put pressure on the Bulgarian authorities in the form of letters and emails, but also organise demos and pickets outside embassies and/or any other Bulgarian institutions, generally spreading awareness about his case.
Please keep publishing information about Jock on your blogs, websites and social media. We hope you will all join the upcoming International Week of Solidarity with Jock Palfreeman on 22nd-28th April, and use your creativity and imagination to express solidarity.
Brighton Anarchist Black Cross
www.brightonabc.org.uk
International Week of Solidarity with Jock Palfreeman – 22nd-28th April
Jock Palfreeman is an Australian who, on the 27th December 2007, on a night out in Sofia, Bulgaria; had the courage to stand up against a group of fascist hooligans. Witnessing the fascists chasing and attacking two young Roma boys, Jock ran to the boys' aid. He did his best to keep the fascists at bay but they ended up turning on and attacking him. Left with nowhere to run, Jock had no choice but to defend himself. Andrey Monov, one of the racist gang, was stabbed and later died. Another, Anton Zahariev was injured. The Roma boys ran away. Jock has since been tried and sentenced for murder and attempted murder. He was sentenced to 20 years imprisonment and has been given a fine running into hundreds of thousands of dollars. Andrey Monovs father is well known in Bulgaria and at his funeral there were a mixture of judges, police and politicians. Jock's trial was (not surprisingly) a complete sham – yet another example of corruption, secret handshakes in the judicial system and media bias. The prosecutions case was built on the witness statements made by the other racists that were part of the attacking group, all claiming that Jock randomly attacked and chased them, with the intent of killing somebody. Key people and possible witnesses for Jocks defence were never interviewed by police and CCTV footage from the scene miraculously went missing. Many of the statements made at the time were different to the statements submitted to the court by the prosecution., while Jocks statement has remained consistent from the night in question.

You can read Jocks official statement at www.freejock.com. You can also watch a documentary about his case that contains interviews with Jock at the following links:
[
Part 1]
[
Part 2]
[
Part 3]
Jock appealed against his sentence and court hearings took place between October 2010 and January 2011. Despite some police officers confirming his version of events, despite one of the fascists making totally incoherent statements in court trying to explain why he changed his original testimony, despite mounting evidence of judicial errors during the initial trial and despite all other factors pointing to his innocence; his sentence of 20 years was upheld. (For Jocks statement about this please go to:
 http://anarchistsolidarity.wordpress…fter-an-appeal )
Jock has now lost all his appeals and the only way left for him, is to appeal to the European Court of Human Rights. He is also trying to secure his transfer to Australia to serve his sentence, which is proving difficult as the Bulgarian prosecution service is determined to keep him imprisoned in Bulgaria. Authorities refuse to even discuss his possible transfer until his fine is paid, effectively holding Jock to ransom. Jock's family is currently collecting necessary funds and you can donate by visiting the www.freejock.com.
It is now more important than ever, that we collectively put as much pressure on the Bulgarian authorities as possible, to accept Jock's transfer to Australia. Between the 22nd and 28th of April 2013 there will be an, International Week of Solidarity with Jock Palfreeman. We need to let Jock know that he is not alone in his struggle and that we are in it for the long run. Any solidarity actions can go a long way to assure that. He recently helped create the Bulgarian Association of Prisoners (www.bulgarianprisonersassociation.wordpress.com) and because he is its Chairman, he suffers repression from the prison's administration, such as a recent refusal of computer access to continue his university education, which pushed Jock into a 30-day hunger-strike. Jock needs us to act and he needs our solidarity. The more creative the actions the better. Don't let the Bulgarian state bury this courageous man alive in prison! Don't let them think that they can get away with it!
Another important aspect is, especially for people in Australia , to keep the pressure on their government to do something for Jocks case. His case has been too quiet in his home country for far too long. It is time to change that!
If you are short of ideas why not try one of the following:
Organize solidarity actions outside Bulgarian Embassies, Consulates, etc. (for a list of the Bulgarian Embassies and Consulates please see,
 http://www.buldir.com/bulgarian_embassies_abroad.html). Phone/write the Bulgarian Embassies and Consulates with your protests.
Help us to swamp the Bulgarian Authorities with letters of protest, condemnation and requests for Jocks appeal to be accepted. It is also vital that we send protest messages to the prosecutors directly responsible for blocking his transfer to Australia. (Please see below for a list of addresses).
Ideally protest letters are best written in your own words….. BUT, we have provided a sample letter (attached) that can be sent if you do not want to write your own. Just print it, sign it and post it, simple as that. Please feel free to reprint it and distribute it to anyone you think may send a copy. We need to get the pressure up, and keep it up!
Addresses to post, fax and email your letters of protest to:
Krassimira Vocheva
Head Prosecutor-Sofia
No.2 Vitosha blvd
Sofia
Bulgaria
Tel: +359 28051500
E-mail:
 infocenter@prb.bg
Borish Velchev
Head Prosecutor-Sofia
No.2 Vitosha blvd
Sofia
Bulgaria
Tel: +359 28051500
E-mail:
 infocenter@prb.bg
Ministry of Foreign Affairs of the Republic of Bulgaria
Address: 2 Aleksander Zhendov Str
Sofia 1040
BULGARIA
Tel: +359 2 948 2999

 http://www.mfa.bg/en/contact/ (ready form for sending messages from their website, very helpful)
Embassy of the Republic of Bulgaria LONDON
186-188 Queen's Gate
London SW7 5HL
Tel.: (0044) (0) 207 584 9400, (0) 207 584 9433
Fax: (0044) (0) 207 584 4948
E-mail:
 information@bulgarianembassy.org.uk
Information, Public Relations and European Communication Directorate
Director: Sofia Vladimirova
Tel: +359 2 971 1408. OR +359 2 971 3778. OR +359 2 948 2218.
Fax: +359 2 870 3041
E-mail:
 iprd@mfa.government.bg
Ministry's Reception Desk
Tel: +359 2 948 2018 or +359 2 971 1054
(opening hrs 09.30 – 12.00 and 14.00 – 16.00)
Ministry of Justice
No 1 Slavanska st
Sofia 1040
Bulgaria
E-mail:
 pr@justice.government.bg
Finally, please write to Jock, even if it's only a 'good luck' postcard. Any letters and postcards will help to keep Jock's spirit up and feeling positive. All will be gratefully received. You can write to Jock at the following address:
Jock Palfreeman
Sofia Central Prison,
21 General Stoletov Boulevard,
Sofia 1309,
BULGARIA
———————————————————————————————–
To Whom it may concern,
I am writing to you regarding the Australian national Jock Palfreeman.
Mr. Palfreeman is currently imprisoned in Sofia Central Prison in Bulgaria. After defending two young innocent boys from a viscous attack by a group of drunken football hooligans; and later being forced to defend himself against the same assailants, he was sentenced to twenty years incarceration under charges of murder and attempted murder.
He is clearly only guilty of accidental homicide in self-defence.
Mr. Palfreeman witnessed a gang of around 16 men, attacking the two boys and ran to their aid. While trying to keep the gang at bay he suffered a viscous attack and was left with no choice but to defend himself. His version of events has remained consistent since the night in question and is supported by numerous witnesses. All of whom are prepared to testify in his defence.
It has since transpired at his trial, to my astonishment, that key people and possible witnesses were never interviewed by police, that the CCTV footage from the scene went missing and that many of the peoples statements submitted to the court by the prosecution were not the same as the statements made on the night in question. Anything favourable of Mr. Palfreemans' defence was completely disregarded by the judge whilst the prosecutions case was built on the witness statements made by the football hooligans that initially attacked the two boys. All claiming that Mr. Palfreeman randomly attacked them and chased them with the intent of killing somebody. The trial was a farce, as so were all appeals.
I ask that the Bulgarian Authorities stop their attempts to keep him imprisoned in Bulgaria, and allow him to be transferred to an Australian prison where he can be closer to his family.
We will continue highlighting Mr. Palfreeman's case and showing our solidarity with him, until our requests have been satisfied.
Mr. Palfreeman selflessly saved the lives of two young boys, risking his own safety, at the cost of his own freedom. He should be deemed a hero, not deemed a cold blooded killer!
Signed
Useful links:
www.freejock.com
www.jockpalfreeman.com

 http://bulgarianprisonersassociation.wordpress.com/