Bristol ABC has launched a crowdfunder as a call to support for people sentenced to prison after the Kill The Bill protests in Bristol in March 2021.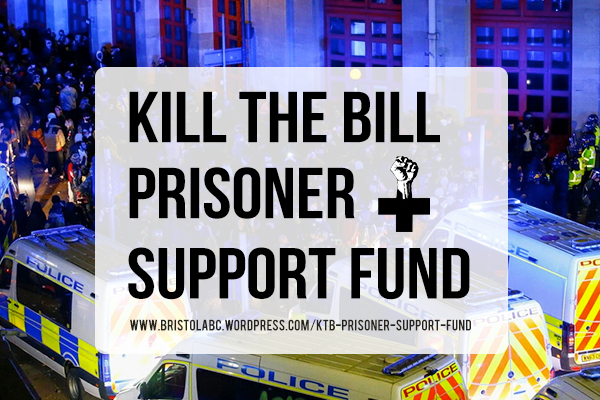 Donate here: https://www.gofundme.com/f/ktb-prisoner-support-fund
Over 78 people have been arrested and 28 people have been charged. Three people are already in prison. Throughout the coming months, more and more people will be imprisoned after resisting police violence.
If you would like to donate in a different way please email bristol_abc@riseup.net
What will the money be used for?
£50 will be offered to each prisoner per month for the duration of their sentence. This is for phone credit and essential items in prison.
If at least 25 people go to prison for 24 months, the total costs will be £30,000.
Bristol ABC is also dedicated to raising funds for books, clothes, distance learning courses and helping people's friends and families visit them. All of these things make prison survivable and keep people connected to their loved ones. Any additional funds we raise will go towards the above.
Why support the Kill the Bill Protestors in Prison?
What happened on 21st March was an outpouring of rage against the violence of the police. The crowd fought back after police officers attacked the crowd with batons and riot shields. Pepper spray was used indiscriminately, people were charged at with horses and hit over the head with batons and shields . The protesters fought back, seizing police riot shields, helmets and batons to defend themselves. By the end of the evening several police vehicles had been set on fire.

Those who defended themselves against the police have been branded 'thugs' and 'wild animals' by both Priti Patel and the police spokesperson. The police have been out for revenge for what happened at Bridewell ever since. That revenge has come in the form of the brutality used against the Kill the Bill protests in Bristol on March 23rd and 26th. And in the use of riot charges – the most serious public order charge available in English law punishable by a maximum of ten years in prison – against those who fought back on March 21st.

The demonstration on 21st March was against the Police, Courts and Sentencing Bill, a bill which aims to give the police even more power to repress political dissent, and which will destroy the ways of life of Gypsy, Roma and Traveller Communities. It will also massively expand the prison population  through further criminalisation, longer sentences and more powers to imprison children.

Communities across the UK face violence at the hands of the police every day, but they only call it violence when we fight back!

We need to support those that have fought back and show those in prison that they are never alone and not forgotten.