A benefit night for the Bristol EDO Decommissioners Defendants support campaign AND prisoners of the ongoing Greek rebellion.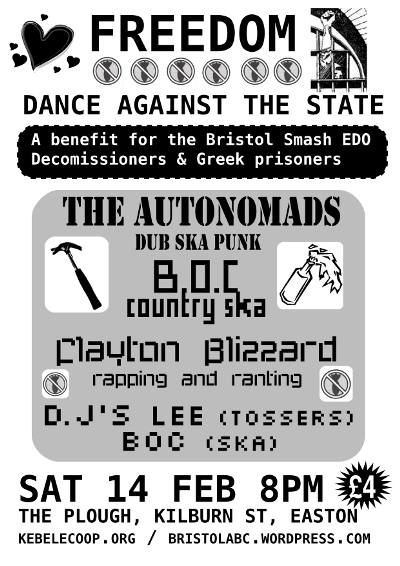 Saturday 14 February 2008 – The Plough, Kilburn St, Easton BS5.
Starts 8pm til late, door tax £4.
Bands:
The Autonomads – dub ska-punk (Manchester)
B.O.C – country ska (Bristol)
Clayton Blizzard – rapping & ranting (Bristol)
DJ's: Lee (Tossers) and BOC (ska)
The issues:
Bristol EDO Decommissioners defendants support campaign – website.
Read about the action they took here.
The Bristol defendants are due back in court on February 16 to answer bail. It is hoped the 2 Bristolians on remand in Lewes prison will be allowed out on bail then, but it isn't certain at all. Funds are needed for the support campaign, for publicity, research and to help friends and family visit prisoners and be present at court cases.
Greek rebellion & prisoners info – recent updates here, here and here.Whilst many hundreds have been arrested by cops in Greece since the rebellion began on 6 December after a fascist cop shot a teenager, many were released without charge. However it is believed upto 250 remain in prison facing serious charges. They need our solidarity in more ways than one – cash raised will be sent over to help defendants facing charges and/or those already sentenced.
Benefit night organised by Kebele sound collective & Bristol ABC Prisoner support group.