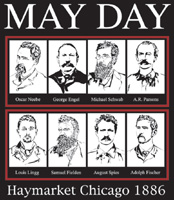 The history of Mayday is rooted in the struggles for freedom and against oppression. Whilst the original roots of Mayday lie in pagan celebrations based around the land and fertility, since 1886 Mayday has been synonymous with the struggles of workers for decent pay and conditions and against state repression of those same struggles, and indeed against the the efforts of workers to self-organise.
The roots of the Anarchist Black Cross can be traced back to Russia in 1872, when the Political Red Cross was formed to assist workers and rebels who were imprisoned and harassed during czarist crackdowns on the struggle for freedom. Throughout its history, the ABC and others engaged in prisoner solidarity have themselves faced intense repression from the state. This pamphlet 'The Struggle for Equality' (pdf) by the activist Yelensky provides a fascinating history.
It is heartening to see then that this weekend there are in Bristol a number of events marking Mayday and the struggles for freedom and against state repression. With governments the world over becoming increasingly authoritarian and militarised, and capital increasingly on the attack against workers as it seeks to shore up its system of profit & control, we would do well to remember our common history. Celebrate it. Amplify the struggles today, and remember the need for mutual aid and solidarity.
Bristol events May 1 and over weekend: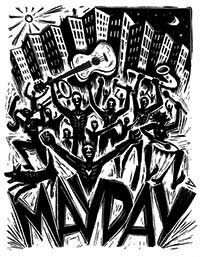 May 1
12 noon – Chalking for Change. Meet opposite Hippodrome in city centre. Event inspired by arrest of student Paul Saville for chalking on pavement. Charges were dropped. However Paul did then have his wrist broken by riot cops at the G20 climate camp.
12.30pm – Cry Freedom! Cry Seven Stars! – unveiling of plaque to celebrate anti-slavery struggle. With a social in evening. Organised by Bristol Radical History group.
5pm – solidarity picket for sacked Ford Visteon workers – meet at the Brunel Ford showroom, Winterstoke Rd, Ashton Vale/Bedminster.
May 2
12 noon – demo against police brutality and state repression – meet outside New Bridewell police station, Bridewell St, BS1. Demo details and flyer.
May 1 to 3 – Mayday Everyday! 3 nights of punk, at Chesters in Frogmore St, BS1, to raise funds for the EDO decommissioners and the Israeli anarchists against the wall. Full details from the Bastard Squad Collective.
Mayday solidarity greetings to all those in struggle!