A new resource and support group for animal rights prisoners has emerged recently, called quite simply 'Animal Rights Prisoner Support'. They do exactly what it says on the tin, which is much needed because the animal rights movement has faced the full force of the state in the last few years, resulting in massive surveillance, harassment, legal action, arrests and imprisonment – with long sentences.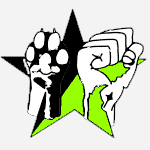 The ARPS can be contacted at PO Box 2174, Leigh-on-sea, Essex SS9 0AZ, or email them at info@arprisoners.org. Their website has background info, links and details of animal rights prisoners.
They are producing a magazine, of the same name. Issue 1, dated August 2009 is out now. To find out more contact them, or check out the Bristol anaimal rights collective stall at the Bristol anarchist bookfair. Bristol ABC has a few copies of issue 1 which we will have at the bookfair too. If you'd like advice/help writing to prisoners do come and speak to us.