Around the world hunger strikes are used by prisoners as a last resort in struggling against the oppressive prison system. Here's an update about a couple of hunger strikes from Palestine and the United States, but there are probably many more hunger strikes going on as people on the inside resist.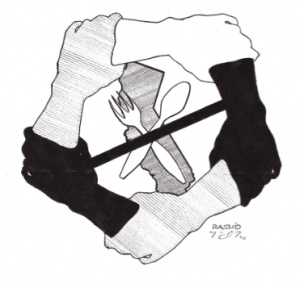 From Palestine… It has just been announced that Khader Adnan's 66 day hunger strike is over and that he will be released in April from "administrative detention" (means that Israel can detail him indefinitely). There were grave fears for his deteriorating health.
From the United States… It has been announced that Christian Alexander Gomez died earlier this month while on hunger strike in Corcoran State Prison. The 27 year old man passed on six days after he and 31 other prisoners in the Corcoran State Prison's administrative segregation unit began refusing food to protest restrictions on access to health, good food and legal services.
Prisoners in the Corcoran Administrative Segregation Unit (ASU) have been striking for periods of time since late December 2011. It's likely that some number of prisoners have continued striking up to quite recently. As of February 9, the California Department of Corrections and Rehabilitation (CDCR), disclosed that 30 men were still striking and a representative in the office said that prisoners had been intermittently striking for the last month. The CDCR has consistently misreported the numbers of prisoners on strike around California, and the group Prisoner Hunger Strike Solidarity heard rumors of numbers anywhere from 50 to 200.
The Corcoran strikers are rallying around 11 demands. The demands of the Corcoran strikers are somewhat different than those of the strikes sparked in Pelican Bay State Prison's Security Housing Unit (SHU) this past summer and fall, which at one point included 12,000 prisoners in 13 prisons across California. Administrative Segregation Units are often used as holding places for prisoners in route to SHU facilities, or who are waiting for release back into general population.
February 20th has also been called as a national occupy day in support of prisoners in the United States. Check out their website here: http://occupy4prisoners.org/