Amadeu Casellas is a Spanish anarchist who has been in prison for over 25 years, thats 5 more than the Spanish legal maximum to be in prison, and 5 more than his original maximum sentence. His 'crimes' all relate to expropriation, the robbing of banks to fund the workers and other social movements in the late 1970's, just after the death of the fascist dictator Franco and the end of his regime – a regime that stole the funds and property of countless Spanish trade unions and individuals, as well as murdering many of its people.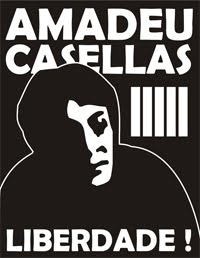 His present hunger strike has lasted 88 days so far, as he tries to force the prison to free him as required by their own laws. He is also on hungerstrike because the prison system has broken its promise after his last hungerstrike to send him to the 'third grade' of the prison system, which allows home visits and is preparation towards release.
His supporters are calling for solidarity. There was due to be a protest in London today (details). People are also asked to send faxes and emails to the numbers below – obviously Catalan or Spanish is better, but anything is good!
Fax number: (++34)932140179 (You can send it with this program for free)
Or email sindic@sindic.cat or justicia@gencat.cat
Write to Amadeu too:
Amadeu Casellas Ramón
UHP – Hospital de Terrassa
Carretera Torrebonica s/n
08227-TERRASSA – (Barcelona)
Espana
His supporters also have a blog Freedom for Amadeu which has the option of a google translator on it.
They have sent out the following appeal….
"Amadeu Casellas is a prisoner who has spent more than 25 years in jail due to his participation in dozens of bank robberies, helping with that money to the funding of worker's struggles in the late 1970's. None of his felonies involved blood crimes. Amadeu has always been a committed and active person, participating in many actions, in the streets as well as in prisons.
When he was 14, in 1973, working at a factory, he discovered anarchism. He believed in the armed struggle and in a essential revolution. In 1976 he robbed the Banco Mercantil de Manresa. During the next two and a half years he robbed more than 50 other banks. In 1979 he enters prison and is welcomed with a brutal beating. During all the time he has spent jailed, he has participated many hunger strikes and other types of protests, he has sewed his lips and has made countless complaints: about the prices inside prison, against the irregularities and exploitation of the inmates forced to work, against the faking of blood analysis or penitentiary reports… All of this has caused him many  'first grades' (isolation), and transfers from prison to prison, with the intention that he givse up. He has reported abuses against prisoners rights, and of the entire prison system.
Last year, after holding a 76 day hunger strike, Amadeu gained the promise of the penal institution to enjoy permits that would allow him to get to the 'third grade' (weekend permits, the possibility to work outside prison and just go there to sleep…) and a subsequent freedom. This promise was then blatantly ignored by the institutions.
Since July 15, Amadeu is again on hunger strike. More than 80 days already. This particular hunger strike started after the repression he has suffered since he wrote some communiqués where he explained, with actual names, some facts related to the people in charge of the Catalan prison system. Since July 2008, Amadeu has spent more then 200 hundred days on hunger strike!
He has endured forced feeding (3.5 litres a day of whey) since September 24. His lawyers and family find it extremely difficult to talk to him. Many 'prison workers' and jail unions have tried to sanction the lawyers.When he wants to smoke, the rest of the inmates of the penitentiary wing of the Terrassa Hospital are forced to go back to their rooms. As well as hunger strike, Amadeu has felt forced to add a thirst strike so to be able to get visits from family and lawyers. That first thirst strike accomplished his intentions. But since Sunday October 4, he has started another one because they're trying to transfer him again to prison, because 'his health has improved.'
Some actions and demonstrations have taken place, in Spain as well as in other countries. We feel the need to ask for solidarity with this anarchist fighter. A call for decentralized actions has been made until he gets his third grade and leaves the hunger strike. It should be noted that Amadeu's position depends solely on the Catalan prison and political system, not of Spain's. Anyway, actions, information and solidarity should be carried in any possible way.
It might also help (as happened during last year's hunger strike, along with many actions) to saturate this fax number and e-mail accounts with messages supporting amadeu:
Fax number: (++34)932140179 (You can send it with this program for free)
Or emails sindic@sindic.cat and justicia@gencat.cat
Solidaridad!"