Monday 7 June at Hove Crown Court sees the long-awaited start of the trial of the EDO Decommissioners, some 17 months after their action to shut down the EDO ITT/MBM arms factory in Brighton. At long last they will have their day in court and, if all goes well, be free from the restrictive clutches of the state.

There are 9 defendants in the Decommissioners case, 6 from Bristol and 3 from Brighton. 7 have been on various forms of restrictive bail, whilst 2 from Bristol are currently on remand. Of the 9 defendants, 1 from Bristol intends to plead guilty to the main charge relating to damage to the EDO factory. Whilst this is regretable, given that individuals circumstances it is understandable.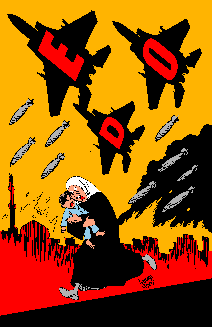 The remainder are pleading not guilty to both the damage and conspiracy charges, arguing that they acted to prevent a much greater crime (the Israeli state's bombing of civilians in Gaza). The attitude of the defendants is that it is not they who are on trial, but the bosses of EDO and the politicians and corporations who facilitate the trade in military weapons and the subsequent mass murder. (There is similar trial of anti-militarists ongoing in Belfast at the moment – details here).
Whilst we have no faith or trust in a justice system designed to protect private property/wealth and the domination of the state, we wish all defendants a successful outcome! There is a solidarity picket of the first day at the court from 9am, and ongoing events related to it in Brighton – see Smash EDO for info, and act in solidarity in ways you feel are appropriate.
In particular please continue to support Elijah (James) Smith), who has been on remand at various prisons since the decommissioning on 17 January 2009, and will remain in prison for the duration of the trial. Send messages of support to him at: Elijah Smith, A3186AM , HMP Lewes , 1 Brighton Rd,Lewes, Sussex, BN7 1EA, UK. Please include a stamped addressed envelope so he can write back to you easily. See the Decommissioners and Smash EDO websites for other ways of showing support and for trial updates.
Whilst Elijah has spent near on 17 months on remand without a trial, we note and contrast his treatment with that of the police officer who assaulted Ian Tomlinson moments before he died in London on 1 April 2009. Elijah smashed up someone else's property, but hurt no individual. The officer who assaulted Tomlinson (from behind) was clearly caught on camera but as yet faces no formal charges and is not locked up in prison. British justice? What a joke!