100 Arrested, Undercover Cops Forced Out of Protester's Ranks
by Gord Hill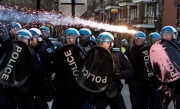 As a Montreal police helicopter hovered overhead, speakers at the 14th Annual Protest Against Police Brutality denounced the 43 police-related killings in the city since 1987, including the 2008 shooting of 18 year old Fredy Villanueva in Montreal's north end. According to a call-out by organizers, the Collective Opposed to Police Brutality (COPB):
"These 'peace officers' abuse their powers and sometimes even kill innocent and unarmed individuals without the least worry of being punished, since they know the system is there to protect them. This situation has a name: impunity."
This year's protest, held on Monday, March 15, 2010, took place in Montreal's east end, a working class neighborhhood that, according to its organizers, sees plenty of police abuse, racial profiling, as well as criminalization of sex trade workers, which were the main themes of this year's march. Protester's began gathering at the Pie IX subway station at 5PM (located at Parc Olympique, next to the massive Olympic stadium built for the 1976 Games), eventually reaching some 800 participants. Along with the helicopter, there were some 400 cops deployed, mostly riot police and some 10 horse-mounted cops. Even as protesters assembled, scores of riot police and horses were already positioned around the metro station, with helmets, shields and batons.
The march began at 5:30PM down Pie IX Boulevard, going a few blocks until it reached Ontario St., where it turned west. There, police were hit with projectiles, including rocks, bottles, fireworks, and paint bombs. Some twenty minutes into its start, the march was declared an "illegal assembly" by the police, who ordered protesters to disperse (few obeyed the command). As the march approached a National Bank on Ontario St., scores of riot cops and horses ran to protect it. Other than this, there was little obvious targets for property damage, and little occurred throughout the march. Although there was a wide range of social types in the protest, including punks, hippies, black clad anarchists, anti-racist skinheads, communists, socialists, hip hop/gangsta kids, and students, they were predominatly young and francophone (all the speeches and most chants were in French). Although mostly white, there were plenty of brown kids as well. The black-clad anarchists were in groups dispersed throughout the march and did not bloc together.
The march had a fairly rapid pace, and the objective seemed to be to get from the assembly area to the dispersal point as quickly as possible. Organizers said that when the annual march started years ago, they were usually short with militant actions beginning after the rally dispersed.
After walking down Ontario St. a few more blocks, the protest then turned north on Saint Germain (a smaller residential street) and made its way through Prefontaine Park. At this point, a dozen or so undercover cops were assaulted with punches and kicks. They had joined the protest at the assembly point posing as militants. Some wore bandanas and ski masks, but most people identified them immediately as cops.
At first spread out in groups of 2-4 throughout the march, the undercover cops had grouped together for their own safety, with some being heckled and also attacked while attempting to make an arrest earlier in the march. To defend themselves they had tactical batons and short, flexible batons. After being attacked in Prefontaine Park, they ran the last 150 metres or so to gain the protection of a line of riot cops at the far end of the park, as rocks and bottles rained down on them. Although the protest organizers had planned on dispersing at the Prefontaine subway station, a line of riot cops instead blocked the street leading to it. They began shooting rubber balls with green chemical dyes at protesters and made baton charges. Protesters were forced back but also responded with projectiles and fireworks fired at the cops. Some protesters began to disperse, while a mob of 150 or so began marching up Saint Germain and then back towards Pie IX subway station along Rachel St. A hundred or so others began moving uphill on a residential side street. Suddenly, forty or so riot cops came charging down hill, as cops at the bottom formed a line blocking the street. Seeing the trap closing, some protesters began running through an alley on one side and residential housing on the other. Either way, they had to climb fences and embankments to escape. Those that weren't able to get out found themselves encircled in the intersection at the bottom of the street. Numbering about 85, they were informed they were under arrest for participating in an "unlawful assembly." After a couple of hours, they were searched and loaded onto city transit buses often brought in by the cops for mass arrest situations. They were given a ticket with a fine, and most were released within a few hours. Despite this mass arrest, the other main group of protesters made their way back to Pie IX metro station. Along the route, more skirmishes occurred, with garbage bins and other debris placed in the street to slow down following police vehicles. A cart with lumber was also dumped in the street and set on fire.
Altogether, the march lasted about 3 hours. According to police and media, along with the mass arrests fifteen others were arrested and charged for mischief, assaulting police, and carrying weapons. Four protesters were reportedly arrested at the start of the rally after cops found Molotov cocktails. Many people were assaulted by the cops firing less-lethal munitions and batons, as well as violent arrests that led to bloodied faces on some.
This was the 14th annual march, organized by the Collective Opposed to Police Brutality, (COPB), the first being held in 1997. The protest has come to be associated with street fighting and vandalism, seen by some participants as a collective response to police violence. Mass arrests have been frequently carried out by Montreal police against the annual march, including in 2000 when more than 100 were arrested, 2002 with over 370 arrested, and in 2009, when over 220 people were arrested. Days prior to this year's march, in the early morning hours of Saturday March 13, 2010, a Montreal police station was attacked by a group of people wearing masks and black clothing. Estimates of their number range from 10-20. Using hammers, rocks and baseball bats, they smashed out the windows and computer terminals in 11 police vehicles, as well as some windows of the station itself. Graffitti was also spraypainted, using the initials FTP (Fuck the Police) and ACAB (All Cops Are Bastards).
For more info on the International Day Against Police Brutality, or COPB:
www.copb.resist.ca
Great YouTube video of expulsion of undercover cops:
http://www.youtube.com/watch?v=u8cdnlU50Zs
Report taken from the No 2010 website.