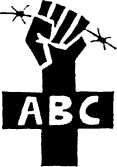 The Brighton and Bristol Anarchist Black Cross prisoner support groups will both have stalls at the London anarchist bookfair, this Saturday 24 October. We'll be alongside the comrades from the Campaign against prison slavery, and Haven Distribution books to prisoners. Come along and have a chat with us, find out more and pick up some interesting info and prisoner's details.
Brighton and Bristol are also hosting the following workshops:
1pm @ room EB2: Too Many Prisons, Not Enough Justice
1st workshop – explore the factors that increasingly contribute simultaneously to the criminalisation and victimisation of our communities, and our activists.
2pm @ Skeel lecture hall: Greece – after the December 2008 insurrection
Greek speaker – after the highs of last December, struggles in Greece continue at a level unheard of in the UK. They do so in the face of a massive counter-offensive by the allied forces of the Greek state, capital and the fascists. Up date of the situation on the streets, and how the movements are responding.
4pm @ EB4a: Anarchists for Prison Abolition
2nd workshop – discuss ways of preventing the criminalisation and over-policing of our communities and ways of opposing the growing "prison society".
Please arrive on time each time!
Also 31 October & 1 November in Brighton at The Cowley Club – Gathering Against The Prison Society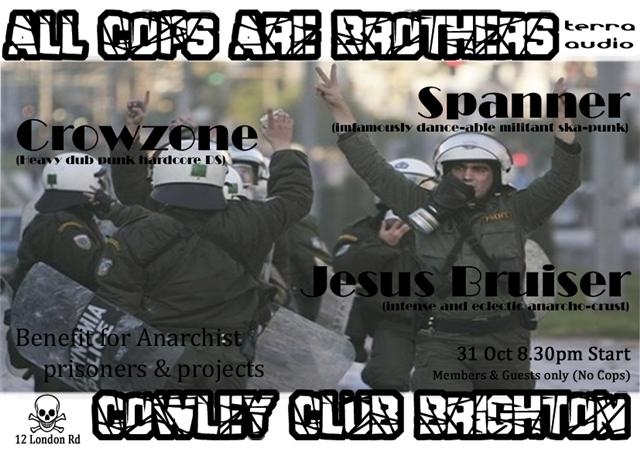 On the evening of the 31 October there'll be a fundraising social at the Cowley Club featuring Bristol legends Spanner and Jesus Bruiser, plus Crowzone, and DJ's from Terra Audio.