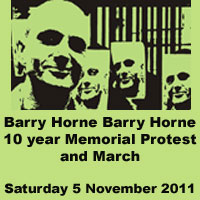 Barry Horne was an animal liberationist who quite literally died for his beliefs whilst serving an 18 year prison sentence. Whilst in prison he engaged in 3 hungerstrikes in less than 3 years, the first two whilst he was still on remand.
Barry Horne was arrested in Bristol in July 1996, spent a lot of time on remand at Bristol prison (in Horfield), and was tried at Bristol crown court. His hungerstrikes were a political action aimed at forcing first the Tory government, and then NewLabour, into taking action to end vivisection and then general abuse of animals for profit. During his hungerstrikes and throughout his prison sentence until his death there was a masive upsurge in animal rights related actions, and some of the most well known such campaigns began, including at Hill Grove (cat) Farm and Huntingdon Life Sciences.
Barry Horne's third hungerstrike lasted 68 days, and although he lived for nearly 3 more years he never really recovered his health before dying of liver failure on 5 November 2001. Whatever one may think of animal rights struggles, one can only marvel at Barry Horne's principled and brave committment to his cause. 10 years on from his death, supporters, friends and other animal rights activists are holding a memorial event – in Huntingdon of course.
Read about his hungerstrikes here, and visit his memorial website. Locally, the Bristol animal rights collective (Barc) would like to hear from you if you are interested in animal rights, and much more.