10 months ago yesterday, on 18 January 2009, Elijah (James) Smith and 5 other anti-militarists from Bristol were arrested in Brighton. They had spent the previous night decommissioning the EDO/MBM/ITT factory in Brighton, in an attempt to stop it providing parts for weapons being used by the Israeli army to bomb civilians in Gaza. Nobody was injured or harassed during their action, which was one of property damage/sabotage. They did not resist arrest.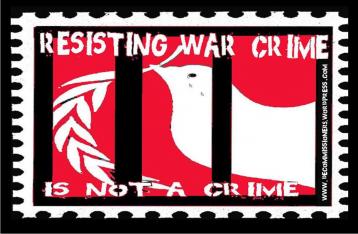 Exactly 10 months on and Elijah Smith is still on remand. Yes thats right – 10 months in prison without trial. And it looks as if he is likely to remain in prison until the trial actually starts, probably on 17 May 2010, by which time he'll have spent 16 months on remand. British justice?

Elijah is currently at Bristol prison, please write to him in solidarity: Elijah Smith VP7551, HMP Bristol, 19 Cambridge Rd, Horfield, Bristol, BS7 8PS
He will be there until late November. On 30 November/1 December he and the other Decommissioners will be at Brighton courts for a 'case management' session relating to their trial next May. At the same time, Elijah and another decommissioner, also known as the Raytheon 2 (previously the Raytheon 3, but 3rd defendant's charges dropped), will have that case discussed at the same court – the prosecution are trying to have the Raytheon and EDO cases linked, and a decision is due on that then. Elijah faces a third court case, currently set for 2 August 2010, which relates to alleged threatening comments he made to the EDO/MBM CEO during a previous court hearing.
Supporters of the Decommissioners will have stall at the Kebele anniversary party on Saturday 21 November at Easton Community Centre – come along and chat to them, find out what you can do to support the case and the campaign against weapons of mass destruction.
On 18 January 2010, in Brighton, on the anniversary of the decommissioning action, and also the anniversary of the last day of bombing Gaza, Smash EDO are holding a 'Remember Gaza / Smash EDO Mass Demo'. Full details.