Viva La Resisdance – a fundraiser for defendants and prisoners in Greece resulting from the revolt that commenced last December – this Saturday, 28 March, in central Bristol.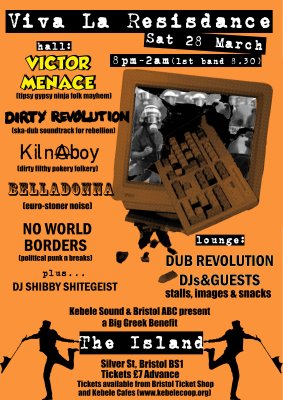 Organised by Kebele sound, Bristol ABC, and friends, in solidarity with those arrested and persecuted by the Greek state, after a Greek cop shot and killed a teenager last December. All monies raised will be transferred to groups in Greece providing support for the arrested and imprisoned.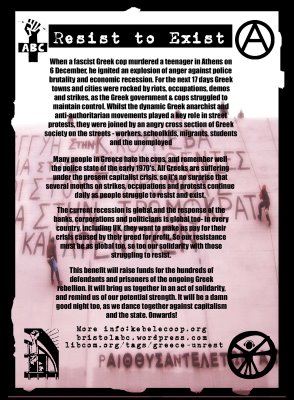 All the bands, dj's and crew at this gig are doing it for free, at central Bristol's newest alternative venue (who are being very supportive too!). So get down to The Island, in Silver St, Bristol BS1 2PY. The action starts at 8pm, first band on around 8.30pm, and it'll run until 2am. There'll also be an infoshop, other stalls, snacks, and images from Greece. Tickets are £7, available in advance from Kebele cafes, or from Bristol Ticket shop on Union Street, and of course you can pay on the door until we're sold out.  It'll be a cracking night out, and a great way to warm up for the G20 protests in London and elsewhere next week!
To find out more about whats been going on in Greece read our blog, and come along to the Greek Revolt Info Tour at Kebele social centre, on Friday 27 March, from 7.30pm.
Thanks to all who are helping put this gig on, proving that mutual aid and solidarity are indeed two of our most potent weapons.