(Urgent update 15/11/10: News coming in that the excellent FITWATCH website quoted below has been taken down by the police and suspended for 12 months, for allegedly 'attempting to pervert the course of justice'! FITWATCH was set up to resist and monitor the behaviour of the police's Forwards Intelligence Teams (as in FIT), who harass campaigners and stick their cameras in people's faces in a threatening way. This means you cannot access FITWATCH'S excellent advice on the link below, but you can now read it here, here and here. Solidarity with FITWATCH, they do great work.)
Update 17/11/10 – FITWATCH website back up!
At least 57 students have now been arrested since the national student demo and storming of the Tory party HQ at Millbank near Westminster last Wednesday 10 November.
So far the media have been disappointed to find all those nicked are bona-fide students, and not clandestine anarchist rioters. At least 10 arrested are under 18 years old, and probably from FE colleges. There is no doubt the numbers arrested will escalate as the cops trawl the vast amount of media and cctv footage, along with the photos people have put up foolishly on social network pages & websites.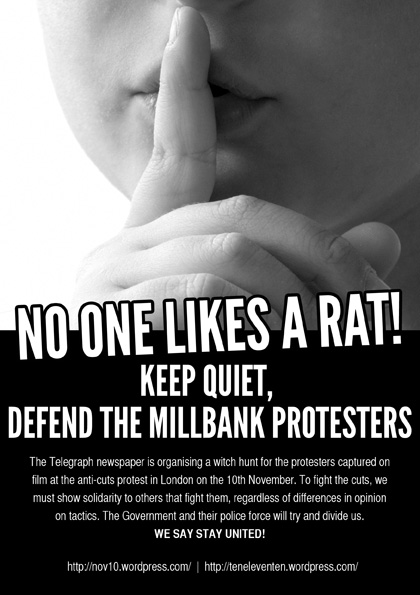 The majority of the NUS leadership, in particular the treacherous wannabee-politician & NUS president Aaron Porter, have of course put their careers first and disowned the protests that captured the world's attention. This is a bit rich given they called the protest a DEMOlition in the first place. They will clearly offer no help to any students arrested, and there must be a serious risk that they may hand over to the cops any database of members they keep. Fortunately, a number of student union officers around the country, along with many individual students and others, can see that the failed tactics of the NUS to defend higher education in the past need updating!
A Defence Campaign has been set up for arrested students and those who fear arrest. Read their website carefully. Also  the excellent Fitwatch have circulated some very timely advice for students that is well worth reading. Now that students have experienced a little of the iron fist of the state, they should be better prepared next time, but remember so too will be the police.
The National campaign against fees and cuts has called a nationwide day of action on 24 November for all students & staff, (school, college and higher education) which is a logical next step in the campaign, and an opportunity to demonstrate solidarity with those arrested so far.