Saturday 20 November, in London, sees the capital's second Tattoo Circus of the year, and it looks like being another weird and wonderful cracker of an event!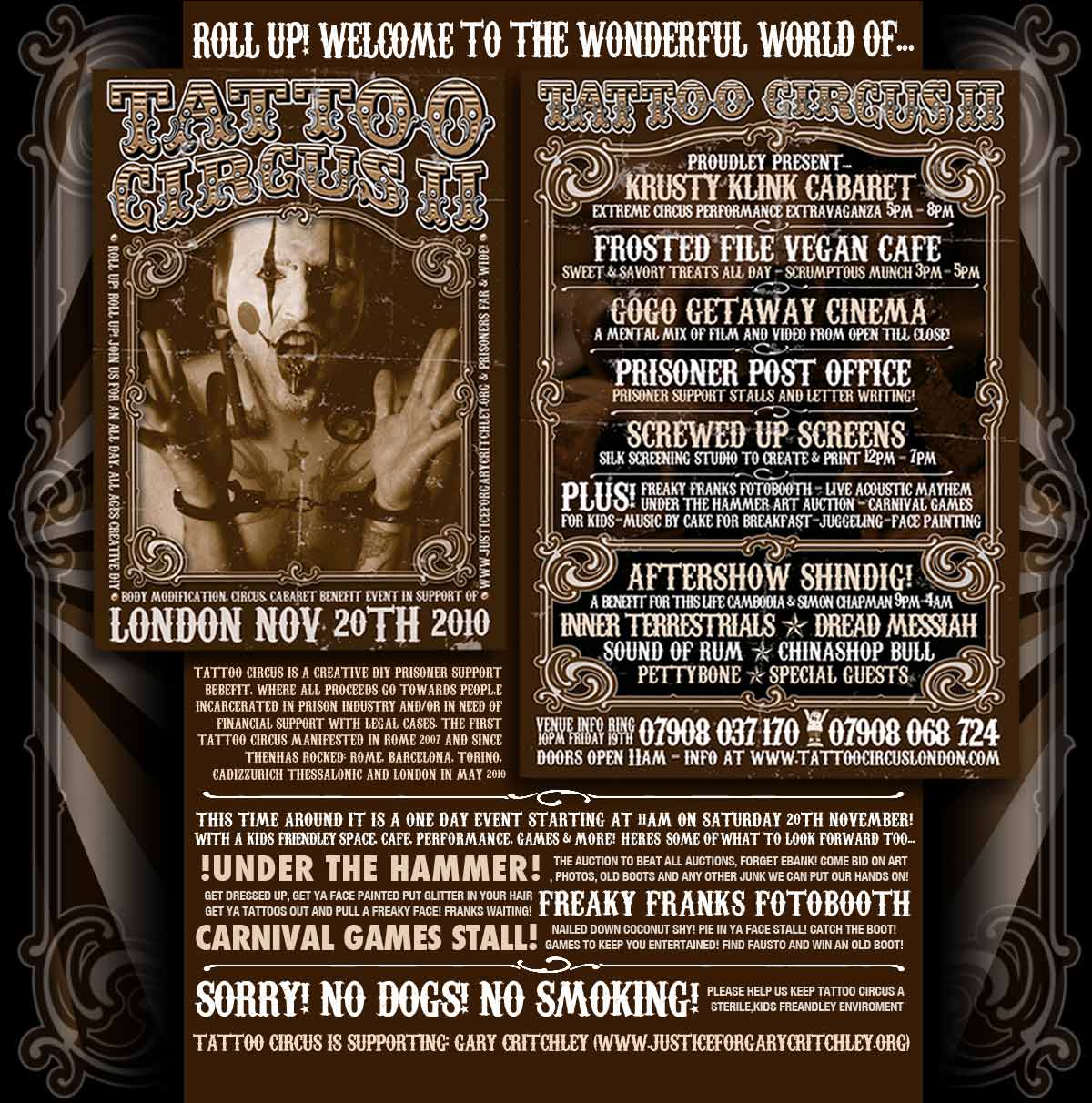 It all kicks of at 11am in the morning. For venue details ring 07908 037170 or 07908 068724 after 10pm on Friday 19 November.
The Tattoo Circus ethos is as follows: "Tattoo Circus is a creative diy prisoner support benefit, where all proceeds go towards people incarcerated in the prison industry and/or in need of financial support with legal cases". And they aint bullshitting either – Bristol ABC was invited to run a stall at the last event, and along with others benefitted from their support. We'll be there again this Saturday, providing info, encouraging people to support prisoners, write letters, and learn more about various campaigns and ideas. For full details of what goes on see the image or visit Tattoo Circus.
The day comes in 2 parts. From 11am to 8pm the Tattoo Circus is supporting the Justice For Gary Critchley Campaign. From 9pm comes the aftershow party, which is a benefit for This Life Cambodia and Simon Chapman (The Thessaloniki 4 Campaign). We recommend both parts!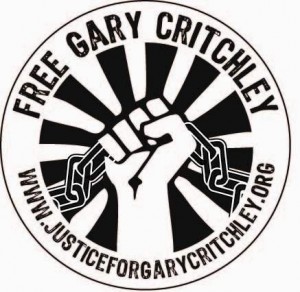 More info on Gary Critchley:
A short while ago someone handed us a flyer about Gary Critchley, so we had a look at his support website. The guy has spent nearly 30 years inside for a crime he didn't commit, making him the victim of one of the first miscarriages of justice in UK legal history. Indeed, he himself was the victim of a vicious assault leading to severe physical and mental injuries, only to be promptly locked away. Unsurprisingly, he has had a crap time ever since, and like so many innocent nobodies his case has been generally ignored by all and sundry, until very recently. Like so many who protest their innocence, and are deemed a bit of a nuisance by the authorities, Gary now find himself in a secure hospital undergoing mental health assessments. So read his story on his campaign website, check out his art, and give the man a clean break and freedom. You can send messages of support to Gary here:
Gary Critchley, Rowan House, Buxton, Norwich, Norfolk NR10 5RH (his prisoner number is B39969 but there's no need to use it at this address as its a secure unit).