Its been a while since we updated on the EDO Decommissioners, but there's plenty of news. So read on, keep giving them your support, and do what they cannot actively do whilst on bail – confront the arms dealers profiting from wars and death.
This news is broken down into 4 parts:
1. Remand prisoners & defendants update
2. Legal moves
3. Fundraising support
4. Raytheon cases
Remand prisoners & defendants updates
Robert Alford, who has been on remand at HMP Lewes, was granted bail at the last court hearing on 8 May. However stringent conditions were attached, essentially requiring him to go to a bail hostel, or similar supported location. Outrageously no bail hostel place was available, despite the efforts of supporters to find one. Eventually several weeks later, a family member was able to provide both a surety and some accommodation. So Robert has now been out on bail, but with a tag, for about 2 weeks. You can continue to write to him, c/o the EDO Decommissioners PO Box. Many thanks to all the anti-EDO campaigners and other activists in Brighton who have supported Robert so diligently.
Elija James Smith remains on remand, locked up now for 5 months, but is now back at Horfield prison. James has not previously requested bail, it is believed out of solidarity with Robert – he didn't want him to be the only one left in prison. Now it is hoped James will soon get bail, but see Raytheon case below.
Keep writing – Elija Smith VP 7551 HMP Bristol, 19 Cambridge Rd, Horfield, Bristol BS7 8PS
The other 4 Bristol defendants are well, and are working on their defence case, despite the difficulties caused by their bail conditions. There are also 3 campaigners in Brighton who have been absurdly linked into the case by the state. Two of them faced stringent bail conditions that actually prevented them from living in their homes in Brighton. This punishment has now been relaxed, although they continue to be denied their rights to engage in protests.
The next monthly discussion & letter-writing meet of Bristol ABC will be held jointly with supporters of the EDO Decommissioners. So come along, find out more, and join us in writing letters of support, and letters of anger. Its on 8 July, from 7pm, at Kebele social centre.
There are also a number of other ongoing cases related to the anti-EDO campaign in Brighton, and some of these have had positive outcomes recently. See the Smash EDO site for info on them and other aspects of the campaign.
Legal Moves
Although the defendants believed they had become rightly entitled to full legal aid after the judge allocated upto 10 weeks for the full court case, starting on 26 October 2009, it seems other arms of the state and the Legal Services Commission had other ideas. Attempts were made to deny them the legal aid, but fortunately we understand this matter has now been resolved in the defendants favour. So bring on all those expert witnesses and testimonies from eyewitnesses about the horrors of the war on Palestinians and the role of the arms manufacturers.
Meanwhile, the defendants will now be represented jointly by Kellys solicitors (Brighton), and Bindmans (London).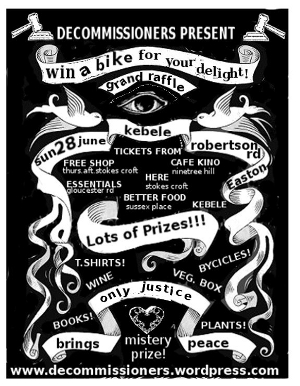 Fundraising support
Many thanks to all those who have fundraised to help the support campaign. There have been benefits in London & Brighton, along with many individual donations. In Bristol quite a few benefits have been held, many organised by people around the Kebele sound collective. There have also been bucket collections at meetings and in the street, and fundraising t-shirts.
Now roll up for the Decommissioners fundraising raffle! All prizes have been donated, so 5 tickets for a quid offers you the chance of 1 of many prizes (see poster). You can get tickets from a number of places, including all weekend 20/21 June at Kebele during the Easton Arts Trail, where a Decommissioner will be on hand to chat with you. The raffle will be drawn on Sunday 28 June, during the Kebele evening vegan cafe from 6.30pm. Dont miss out!
Meanwhile funds are still needed – for prisoner support, travel expenses, publicity & research. See here for details of how to send a cheque. Or if you fancy putting on a benefit gig or party, then just do it and let the campaign know – they'll be happy to bring a stall and speaker along. Keep your eye out too for the campaign at the St Pauls carnival on 4 July, near the old frontline of Grosvenor Road.
Raytheon cases
Elija James Smith was found guilty back in April of charges relating to actions against the  Raytheon arms dealer, and sentenced to 10 weeks, with 5 to serve, despite the low level of evidence against him and the brutal arrest he suffered. Later, after the sentence was complete and he was effectively back on remand, he appealed the sentence and it was reduced to the equivalent of 1 week. You can never say James goes quietly!
Now however James, and 2 of the other EDO Decommissioners, face a second trial relating to Raytheon. This relates to the long roof occupation of Raytheon's Filton office over the last xmas period. They are charged with criminal damage to the roof, to the tune of £32,000.00, an absurd figure that sounds more like a new roof than just a few broken tiles. We'll see. Obviously this case may impact on James's chances of getting out soon on bail!  The case is due to start on Monday 29 June, back at Yates magistrates court. Supporters are welcome again. We look forwards to the day when the accusers are rightly accused for their crimes!
More news as we have it. Keep the support up until all are free!