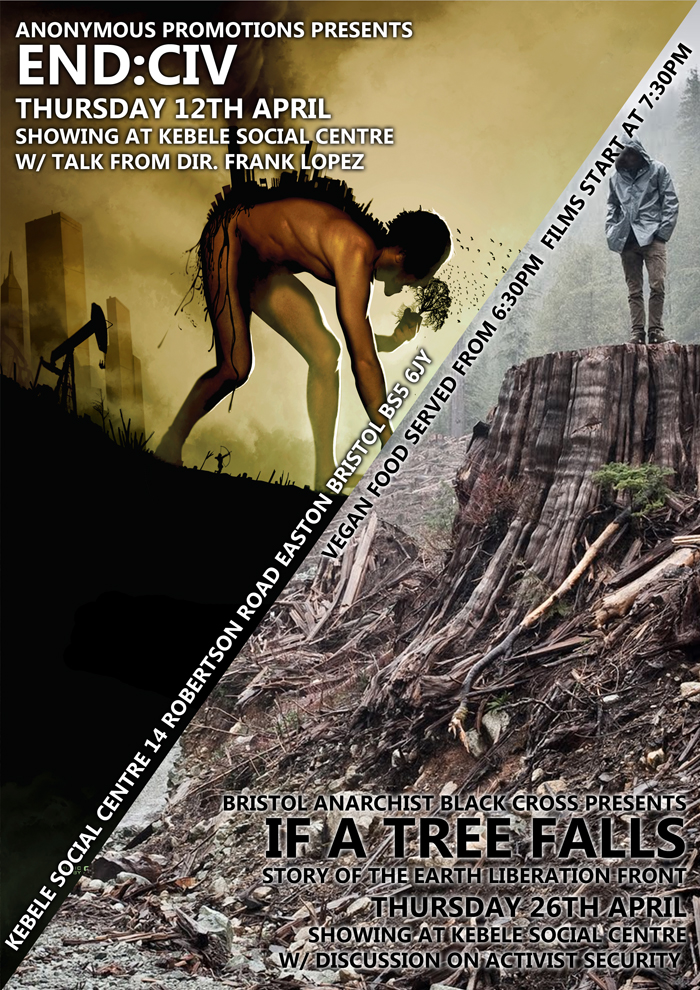 END:CIV UK Tour
Thursday 12th April @ Kebele Social Centre, Easton
w/ Talk from Franklin Lopez & discussion on civilisation and resistance
Food served from 6:30pm, film starts at 7:30pm
+ Animal & earth liberation prisoner letter writing
Having attended over 110 screenings in America, Mexico, Canada and Japan Franklin López will continue his world tour in the UK this April his film END:CIV (http://endciv.com/)
END:CIV illustrates the brutality of a civilization addicted to systematic violence and environmental destruction, and the heroism of those who confront it head-on.
Through rapid-fire video-game graphics, interviews, war footage and satire END:CIV mocks the excesses of the global economic system, and examines the necessity for effective resistance.
As the UK is beginning to experience more frequent environmental crises resulting from climate change and a history of poor environmental management this film will be instrumental in bringing awareness of the need to confront the system which allows this destruction to continue.
After the screening Franklin will answer questions relating to the film and ask those present to consider what action they are prepared to take to save the landbase they rely on to survive.
An award-winning filmmaker, Franklin López hails from San Juan, Puerto Rico. In 1994 he founded SubMedia.tv and his work has been featured on Canada's City TV, Current TV, BET, and Democracy Now!
"By far, the most routinely-praised contemporary media activist is Franklin López. His shows and films not only possess a distinctive look and feel, but they also contain a wicked sense of humor … López's work engages in constructing a new vision where popular culture serves the interests of the poor and dispossessed, where humor is reignited within activism, and the D.I.Y. ethics of punk and hip-hop allow those with talent and gumption to be the media, once again." – Chris Robé, Pop Matter
Suggested donation for food: £2.50