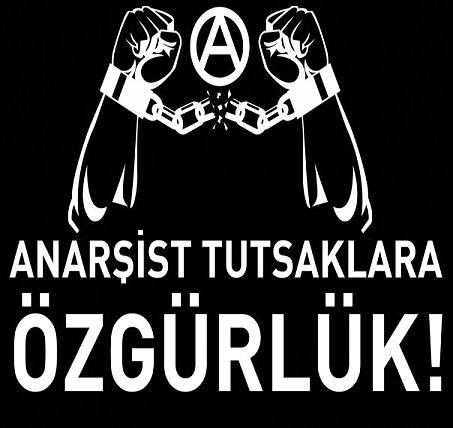 On May 14th 60 people who participated in the Mayday parade in Istanbul were arrested and their homes searched. They are accused of "damaging public property in the name of a terrorist organization", because during the parade a couple of banks were damaged. Nine of them are still kept in prison. One of them (who identifies as LGBT -lesbian bisexual gay transgender) was the target of hate speech.
Using the threat of 15-20 years of prison, some of these nine were pressured during the first days (which they spent isolated from their families, friends and lawyers) and confessed to being leaders of a terrorist organization. This accusation seems absurd if one looks at the different parts of the anarchist movements they were active in – from animal rights to human rights, ecological movement and LGBT. It is the first time that activists from the anarchist spectrum, the animal rights and ecological movement are accused of being a terrorist organization. The same method of repression has a long and sad tradition against kurdish and other left groups and individuals.
It is therefore even more necessary to show the agencies of repression that the imprisoned activists are not isolated, but that they have a broad, international movement standing behind them, which values the defense of lives and the dignity of humans and animals more than a few (broken) windows. In an open letter the nine prisoners speak for the first them and the organization Yeryüzüne Özgürlük Derneği (Freedom to Earth Association) calls for international solidarity.
On June 12th people in many countries all over the world will demonstrate in front of Turkish embassies to show their solidarity with the prisoners and to demand their release. Organize actions in your own city!
Do not leave the prisoners alone!
Support the turkish activists and demand their immediate release!