via LibCom.org
Police revealed 286 people, the vast majority anti-fascists, were arrested for allegedly breaching conditions placed on the protests. Among those arrested were passers-by, legal observers and journalists.
In the week before the march police imposed conditions under Sections 12 and 14 of the Public Order Act restricting the areas in which protests could take place, promising breaches would be "dealt with robustly."
On Saturday morning several thousand local residents and anti-fascists gathered in Altab Ali Park to listen to speeches from politicians and self-appointed community leaders before a bloc of around 700 organised by the Anti-Fascist Network (AFN) started to move towards the EDL.
Between 500-600 members of the EDL had gathered on the south side of Tower Bridge before crossing the bridge, entering the borough of Tower Hamlets and heading towards Aldgate for a rally.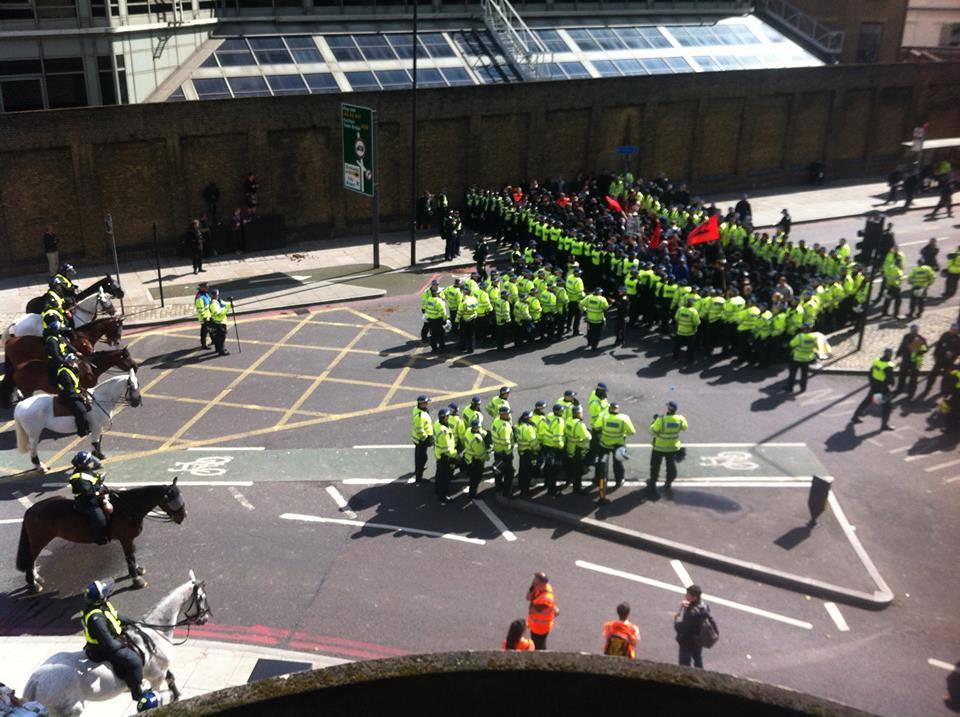 Only around 100 of the AFN bloc came within sight of the EDL before being kettled, providing the only visible opposition to the far-right group on the day. Police reacted quickly to the bloc by attempting to throw up several cordons, eventually dispersing the crowd and forming a kettle on Commercial Street.
After the EDL had been marched back over Tower Bridge police began making mass arrests, arresting everybody in the two kettles and moving them onto buses leased from Hertfordshire-based bus company Sullivan's Buses and travel firm Stagecoach.
Arrestees were ferried to several outer-London police stations were they were processed and bailed with conditions preventing them from demonstrating against the EDL, British National Party and English Volunteer Force within the M25.
Support for arrestees who were predominantly met at police stations with food and beer was provided by Green & Black Cross, Legal Defence and Monitoring Group among others.
Unite Against Fascism claimed the day was a victory.