As Britain's 2012 summer Olympic budget gets ever bigger, and we face an ever greater financial bail out for it using public (our!) money, and whilst private contractors get fat on profits from so-called Olympic regeneration, and politicians preen themselves in front of the cameras, here comes news and lessons to learn from Vancouver's 2010 Winter Olympics opposition: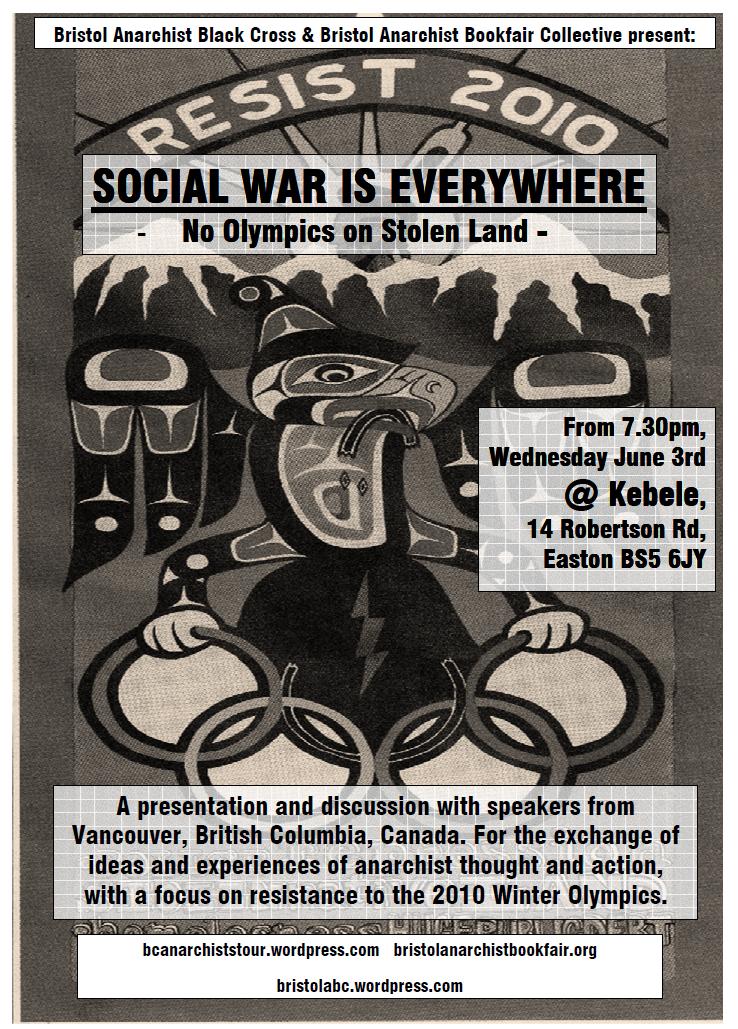 Social War is Everywhere – No 2010 Olympics on Stolen Land
A presentation and discussion with a comrade from Vancouver, British Columbia, Canada. For the exchange of ideas and experiences of anarchist thought and action, with a focus on resistance to the 2010 Winter Olympics in Vancouver.
Wednesday 3 June at 7.30pm. At Kebele social centre, 14 Robertson Rd, Bristol BS5 6JY.
All welcome – free entry/donations welcome.
Well worth a look for background reading and info is the BCanarchiststour blog. Meanwhile the blog Confrontation seeks to report on social conflict across Canada. The No 2010 site has excellent anti-Olympic action news and info. Writing in the latest issue of 4StruggleMag (north American political prisoner support journal – issue 12), Gord Hill an anti-Olympic activist arrested after storming the stage at the unveiling of the Olympic countdown clock in February 2007, had this to say: "Why protest 2010? Because as history shows us, the limits of tyrants are set by those whom they attempt to tyrannise."
The following text has been circulated by supporters of the BC anarchists speakers tour:
'The "Bosses Grand Idea," the Olympics, so aptly termed by Greek anarchists in the time lead up to the 2004 Athens Olympics, is coming to Vancouver in 2010. We say it is already here.
Before winning the Olympic bid in 2003, urban development, tourism and resource exploitation were heavily promoted as a way to sell BC on an international level. Not just an event, the Olympics functions to market this land, through ski resorts, mining, shipping ports, highways and security; to catalyse and secure the projects of the bosses. The Olympics serves to enforce projects of exploitation and social control across British Columbia that will, in many cases, integrate and  bolster capitalist infrastructure internationally.
Initially, anarchists in British Columbia, were inspired to participate in anti-Olympics efforts by the ongoing indigenous resistance to ski-resorts and development, destroying land and ways of life. By continuing in long-term pre-existing struggles, indigenous resistance is at the forefront of the anti-Olympics fight.'
Event hosted by Bristol anarchist bookfair collective and Bristol ABC.