Bristol ABC cafe & film night – A legacy of torture & an introduction to insurrection
This Sunday, 10 May, sees the Bristol ABC prisoner support group take its turn at hosting the weekly vegan Sunday cafe at Kebele . We'll be serving food on Sunday from about 6pm, and after at around 7.30 to 8pm we'll be showing 2 films that are both shocking and inspiring: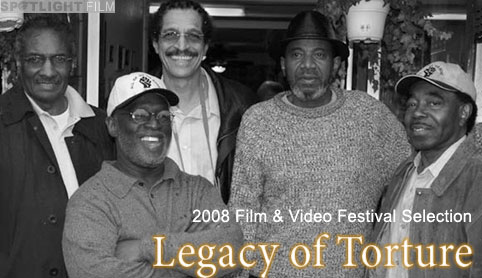 1. Legacy of torture – the war against the black liberation movement in the USA (2006, USA, 28 minutes)
"The same people who tried to kill me in 1973 are the same people who are here today, trying to destroy me. I mean it literally. I mean there were people from the forces of the San Francisco Police Department who participated in harassment, torture and my interrogation in 1973 … none of these people have ever been brought to trial. None of these people have ever been charged with anything. None of these people have ever been questioned about that."- John Bowman, former Black Panther.
In 2005 several former members of the Black Panther Party were held in contempt and jailed for refusing to testify before a San Francisco Grand Jury investigating a police shooting that took place in 1971. The government alleged that Black radical groups were involved in the 34-year old case in which two men armed with shotguns attacked the Ingleside Police Station resulting in the death of a police sergeant and the injuring of a civilian clerk.
In 1973, thirteen alleged "Black militants" were arrested in New Orleans, purportedly in connection with the San Francisco events. Some of them were tortured for several days by law enforcement authorities, in striking similarity to the horrors visited upon detainees in Guantánamo and Abu Ghraib. In 1975, a Federal Court in San Francisco threw out all of the evidence obtained in New Orleans. The two lead San Francisco Police Department investigators from over 30 years ago, along with FBI agents, have re-opened the case. Rather than submit to proceedings they felt were abusive of the law and the Constitution, five men chose to stand in contempt of court and were sent to jail. They were released when the Grand Jury term expired, but have been told by prosecutors that "it isn't over yet." This is the story to date: of history, repression, and resistance.
NB: since the film was made, in 2007 eight now-elderly black radicals have indeed been arrested in connection with the events in 1971, including the 5 featured in this film, as the US state continues to echo the activities of the discredited Cointelpro operation against the Black Panthers. Those eight are known as The San Francisco 8. Barak Obama, are you watching?
Background info: Free the SF8 campaign and this US blog has some good info & comment.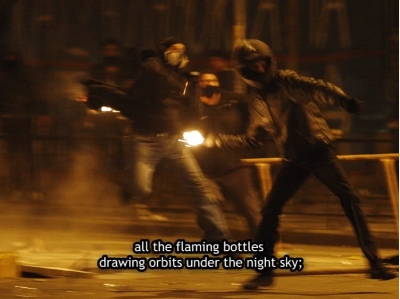 2. The potentiality of storming heaven (2009, Greece, 31 minutes)
When a fascist Greek cop murdered a teenage boy in Athens on 6 December 2008, Greek towns & cities exploded with anger and rioting continued for 17 days. This films intercuts footage of the insurrection with interviews with participants young and old, Greek and immigrant. Set to a music soundtrack, with inspiring text quotes on screen too, the film goes behind the headlines to explain why the Greeks are so angry. Compare and contrast their response to, for example, the response in the UK to the killing of Ian Tomlinson by British riot cops at the G20 in April.
NB: 5 months on from the insurrection, Greece remains at boiling point, as the social movements remain on the streets and on strike in opposition to draconian new laws clamping down on protest, whilst the Greek economy goes into meltdown.
Background info: from Libcom's 'Greece unrest' page and also check their news page. Fuckcopyright has some film info and on-line viewing.
The Bristol ABC group has been reactivated over the last year or so. There is a the need to provide support for political prisoners, and radicalised social prisoners, in the UK and abroad; and there is a need to begin campaigning against the prison-industrial complex – the sector of capitalism that makes a profit out of building and running prisons, and is slowly turning the whole of society into one big open prison. As more and more campaigners & protesters (anti-war & anti-militarist, anti-capitalist, animal rights, anti-fascist and more) are being locked away for years on end, our movement needs to increase its work in supporting and campaigning for our comrades & friends imprisoned by the state. Check our links for more detailed info.
Bristol ABC meets monthly on the 2nd Wednesday of the month at Kebele, from 7.30pm, next on 13 May. Come along to find out more about our work, chat about prisoner support campaigns and prison issues, and write a letter to prisoners in need of support. All welcome.