FREEDOM FOR POLITICAL PRISONERS
CERTAIN DAYS : 2011 CALENDAR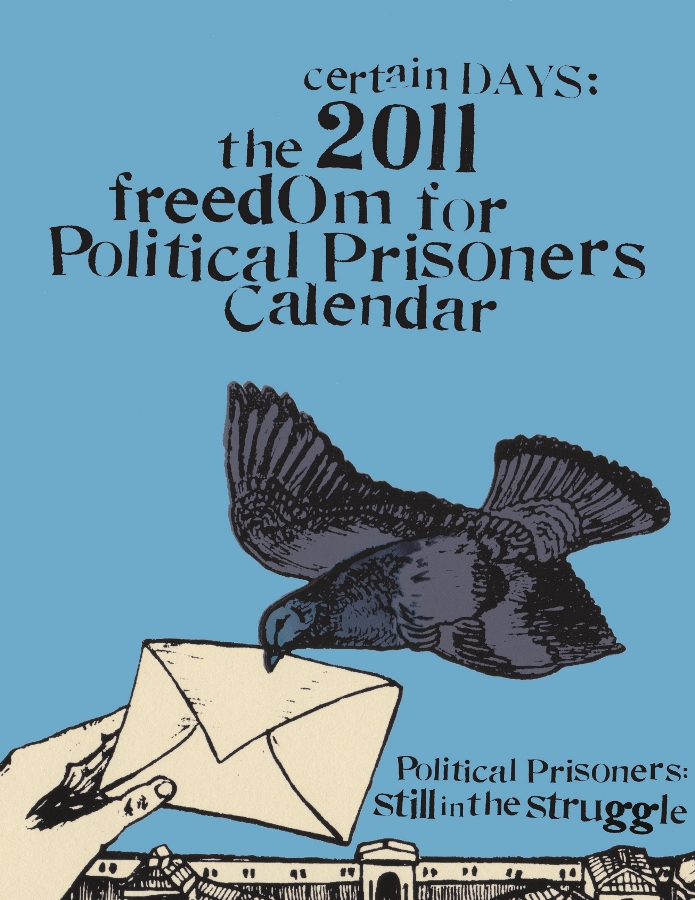 Bristol ABC is once again selling this superb and informative calendar in the UK & Europe on behalf of the publishing collective, to raise funds to support political prisoners. Full details about the calendar are here, and on the Certain Days website. Why not let your friends, family and comrades know where you stand on political prisoners, by getting them a copy as a present?
How to buy it:
You can get it direct from us and Kebele Infoshop at our public events and events where we have stalls. Price £7.00
You can also get it by post from us in the UK and Europe, and buy it online using Paypal in the UK. Full details are on our CALENDAR page.
Why not take some copies to sell – contact us at bristol_abc@riseup.net for terms and with any queries.
2011 Calendar Info
This is a 10-year old fundraiser, info & campaign project by Canadian activists & 3 long-term US political prisoners, who have collectively spent over 100 years inside prison. The 3 are all being held in maximum-security prisons in New York State, they are Robert Seth Hayes, Herman Bell & David Gilbert.
The Calendar is 44 pages of campaign, support and biographical info, including 14 full-colour pages of artwork. Prisoners contributing include: Mumia, Leonard Peltier, Sundiata Acoli, David Gilbert, Jaan Laaman, Akili Castlin, Herman Wallace, Daniel McGowan, Marilyn Buck (RIP), Alvaro Hernandez. Other contributors are a mix of ex-prisoners, artists and activists.

Funds raised by the calendar go to:
G20 Legal Defence Fund (Toronto – over 1000 arrested in June 2010)
New York State Task Force On Political Prisoners (for the release of 7 political prisoners in NY jails)
Addameer (a Palestinian prisoner support & human rights campaign)

More info and links on our CALENDAR page.

Thank you for your support.
Free all political prisoners!