Here is our updated December 2010 list of international and UK political prisoners welcoming support.

Download a copy:
As a PDF: Prisoners list_Dec 2010
As an open office doc: Prisoners list_Dec 2010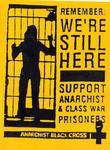 Why not print off a copy and pass it around/pin it up at your workplace, community or social centre, local pub/bar or alternative bookshop/space? Get your friends or campaign group to adopt a prisoner, or just send a few seasonal cards of solidarity? Remember these people are in prison because of acting on their political beliefs. It could be you one day.
We have yet to receive details of any prisoners arising from the recent students and anti-cuts protests, but fear its only a matter of time. There are however a number of other prisoners well worth supporting this month:
– the UK animal rights movement has taken quite a few hits the last year or two, with many long term activists sent down.
– in Greece growing numbers of anarchists and anti-authoritarians are being sent down as the struggles there continue. A week old mass action by prisoners is now reported to involve some 8000 prisoners (about 65% of the prison population).
– in Belarus anarchists and the left face a wave of repression in the run up to the 19 December presidential elections, as the present leader maintains his 17 year-old dictatorship.
– in North America there remain over 100 political prisoners, many who have been in for over 25 or 30 years, and who face no prospect of release.
Send them some solidarity greetings as they all face another year of struggle within the prison regimes.
Lastly, dont forget the 2011 Political prisoners fundraising calendar, a great way to show your friends where you stand on political prisoners!