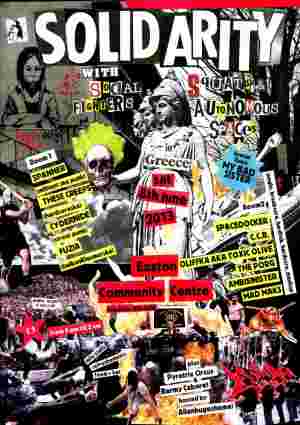 BGSG presents a solidarity event to raise awareness and funds in an attempt to support social struggles and social movements in Greece: Saturday 8 June from 8pm to late, £5 on the door. At the ECC, Kilburn St (off Easton Rd), Bristol, BS5 6AW.
Room 1 Bands – Spanner (militant ska punk), These Creeps (hardcoreska),
Cydernide (street punk), Fuzia (BalkanKlesmerSka)
Room 2 DJ's – Spacedocker; C.C.B; Oliffka aka Toxic Olive; The Porg;
Ambisinister; Mad Masks – playing jungle, breakcore, hardtek, hardcore,
mash up
Plus…Barmy Cabaret & stalls
In Greece a social and ideological war is being conducted, with global consequences for the current economic and political governance model. The state has pulled off the mask of neo-liberalism. Now It Nazi salutes and cannibalizes; it attacks basic social and labor rights, represses violently any form of resistance, as only these totalitarian methods will guarantee its survival. Currently the anti-authoritarian community receives regular brutal attacks from both the State and Fascists.
Anarchists are portrayed as terrorists, many of whom face heavy prison penalties. Their spaces are being violently evicted and their infrastructures and means of communication; (printing presses, radio stations) destroyed. Social centres within neighbourhoods with many immigrants, act as bulwarks against the Neo-Nazi's and their murderous practices, where reactionaries are motivated by a fascist paramilitary organization / political party which holds 18 parliamentary seats – Golden Dawn.
In the last year, numerous squats have been evicted and sealed; some people have been deported, while others are being held in custody. More than 260 people detained by the repressive forces of state and capitalism, and more than 150 of those arrested are facing trial. Additionally fascist arson attacks on autonomous spaces have increased rapidly. In Greece a social experiment is being conducted by the bloodthirsty architects of power. If the resistance movement there is defeated, the success of the experiment will bring the global totalitarian dystopia disturbingly closer for us all.
SOLIDARITY AGAINST THE AUTHORITARIANISM AND DEPRIVATION THAT CAPITALISM HAS IMPOSED ON GREECE!
SOLIDARITY WITH SOCIAL FIGHTERS, SQUATS, AND AUTONOMOUS SPACES!
BGSG – we are a small group of people organizing solidarity events to raise awareness and funds in an attempt to support social struggles and social movements in Greece. Up coming big event on at the Easton Community Centre on June the 8th! Bands, DJ's and performances! All profits go towards Greek autonomous spaces, that have lately been hammered by police/neo-fascist attacks! All welcome, all more than welcome to get involved! We need ideas, energy, people to do stuff on the nite etc.get in touch if u wanna b part of it.
Whoever wants to get involved please contact us at: bgsg@safe-mail.net
Info & news from Greece:
blog.occupiedlondon.org – news from the Greek streets
libcom.org/tags/greece – news, analysis and blogs from Greece
en.contrainfo.espiv.net/tag/greece – resistance and solidarity reports from Greece and across Europe
clandestinenglish.wordpress.com – migration and struggle in Greece
(Greek original at www.clandestina.org/)
borderlinereports.net – independent journalism from Greece on a variety of topics, includes in-depth reports, including a recent one on the Viome factory occupation.