Bristol's self-sustaining DIY fundraising activists put on another important cracker this Friday, 10 December, in support of local comrades facing charges from recent anti-fascist actions.
So whether you're into the music, or not, come on down to show some solidarity, you can always have a good drink and natter out the back! The strength of our movement can in many ways be measured by the solidarity we show to those friends and comrades facing repression, let's not let them down!
This little gem has been put together by 'Inna Minute Innit Presents'…
ANTI FASCIST BENEFIT NIGHT
Friday 10th December, 8pm onwards
The Plough, 223 Easton Road, Bristol BS5 0EG
£3 donation on the door. Playing live is: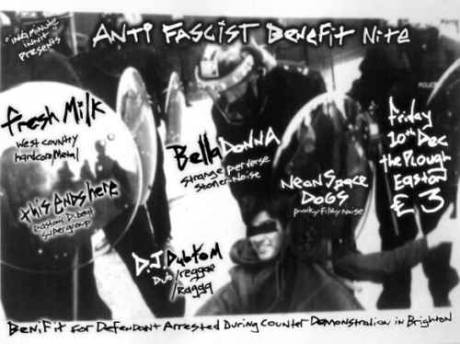 FRESH MILK – West country hardcore/punk/metal
BELLADONNA – Strange perverse stoner-noise
THIS ENDS HERE – Easton's D-Beat supergroup
NEON SPACE DOGS – Punky filthy noise
DUB TOM – DJing dub/reggae/ragga
Lastly, don't forget to get in touch with your local anti-fascist group, there's important work to be done out there.