Court decision likely on 31 January / Bristol fundraiser on Saturday 5 February
The appeal by the Thessaloniki 4 against their sentences is likely to conclude on Monday 31 January, in Greece. The 4 face sentences of at least 5 to 8 years in a Greek prison if the appeal fails. Their alleged crimes occurred during protests in Thessaloniki in June 2003 against an EU summit. Background info here and here.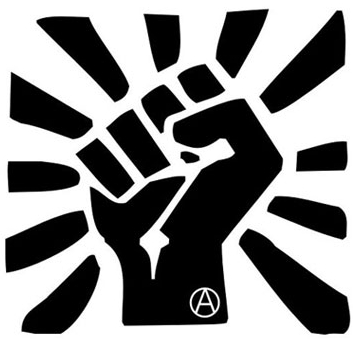 The 4 are Simon Chapman (London, Britain), Suleiman "Kastro" Dakdouk (Syrian origin), Michaelis Triakapis (Greece) and Fernando Perez Gorraiz (Spain). Reports from the trial indicate the charges against Fernando may be dropped, but for the others it doesn't look great. On Monday the lawyer for Simon Chapman will make his closing statement before the 3 judges retire to consider their verdict. The trial was adjourned at the end of last Wednesday (day 6) as one lawyer had other business on Thursday, and there was a strike across all Greek courts on Friday. Reports of days 1 to 6 of the appeal are here.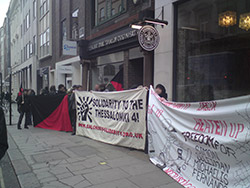 On Friday 28 January the Saloniki Solidarity campaign issued the following statement, and held a solidarity protest at the Greek tourist office in central London yesterday:
"The saga of the trial currently taking place in Thessaloniki, Greece continues with a judgement on the four now due on Monday January 31st. It was always clear that the trial and the repression which preceded was motivated and directed at the highest levels of the Greek State. We do not think that justice is a value known to the courts, especially when the police have taken upon themselves to enforce the repression of the political establishments and continue to perpetrate lies to ensure convictions.
This Monday, January 31st, will see Simon's lawyer give his final summary to the courts after which the Judges and Jury will retire to consider a decision. We call on all comrades, sympathisers and freedom-lovers to show their solidarity with the four defendants. Solidarity to Simon Chapman, Suleiman "Kastro" Dakdouk , Michaelis Triakapis and Fernando Perez Gorraiz. We are with you all!
Everyone to the Streets!"
See From the Greek Streets and Saloniki Solidarity for news of the appeal outcome.
Bristol benefit for the Thessaloniki 4 solidarity campaign, and the Bristol DA bust fund, on Saturday 5 February. From 8pm til late at The Plough in Easton. Full details here.