In an extremely surprising decision, the Thessaloniki 4 have effectively won their appeal against sentences ranging from 5 to 8.5 years, and have been released.(except for Michaelis Triakapis who remains inside for a different matter).

This has been confirmed by a text from a close personal friend of UK defendant Simon Chapman, and by this post From the Greek Streets:
"All of the Thessaloniki 4 are free. The four comrades, including UK anarchist Simon Chapman, have been found not guilty for all (except one minor charge) in Greek court of the charges going back to the EU Summit protests and riots in Thessaloniki in 2003.
All four of the defendants are free. All the initial charges were dropped apart from "distinguished defiance of authority" which was then reduced to "minor defiance of authority". This is a misdemeanour, carrying a 6-month suspended sentence, but none of them will be imprisoned unless of course someone is charged again during these six months. This was the best the juries could ever do, since they had to be charged of something, in order to "justify" the six months they had spent in prison back in 2003."
So the 8 year ordeal for Simon Chapman, Suleiman "Kastro" Dakdouk, Michaelis Triakapis and Fernando Perez Gorraiz in this case is nearly over. We wish them all the best with their lives, and we hope Michaelis is out of prison for his other case soon. The struggle though continues.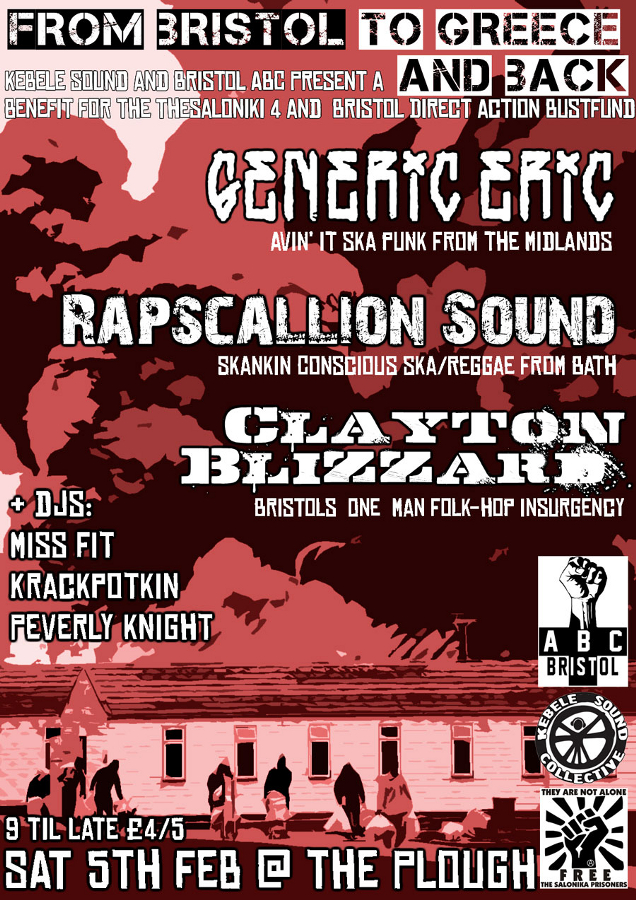 Bristol benefit on 5 February to go ahead!
Although now more of a victory party (for a change!), this event goes ahead. We hope Bristolians who knew and supported Simon Chapman in the period 2000-2004 will join us. The 4 defendants have legal costs and a fine to pay, plus we still want to help raise funds for the Bristol DA bust fund that will benefit any local activists who run into confrontation with the British state. So come on down for a right old knees up of a party night! Saturday 5 February, from 8pm til late, at The Plough, 223 Easton Rd, Bristol BS5 0EG. Suggested door donation £4/5 or what you can afford.