A discussion on the struggle in Chile, clips from the film "The Chicago Conspiracy" and a talk about "The Bombs Case". Letter writing to Latin American prisoners at end.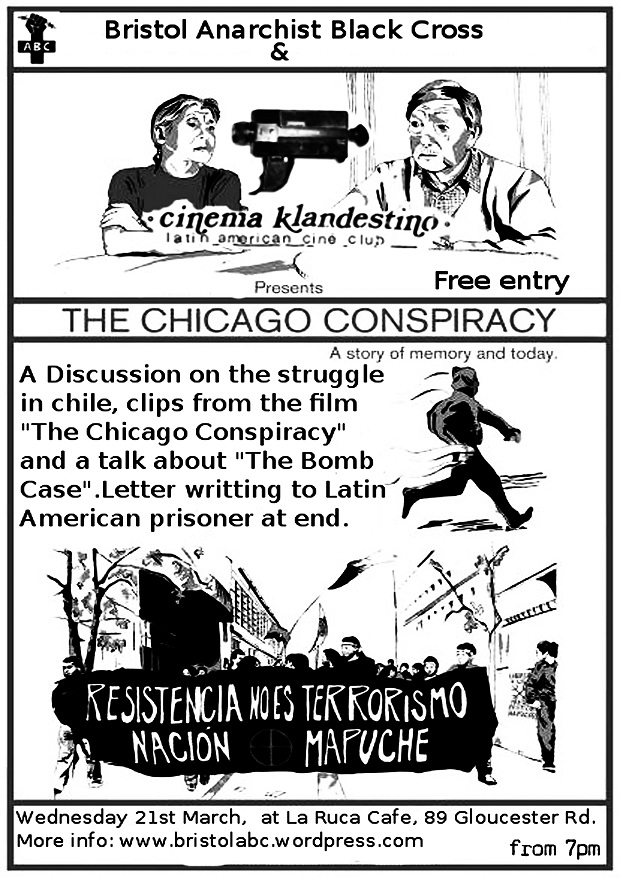 Chiacgo Conspiracy:
The documentary addresses the legacy of the military dictatorship in Chile by sharing the story of  combatant youth who were killed by the Pinochet regime as a backdrop to the history of the military dictatorship and current social conflict in the area. The larger story is wrapped around three shorter pieces, which explore the student movement, the history of neighborhoods that became centers of armed resistance against the dictatorship, and the indigenous Mapuche conflict. The filmmakers, militant film collective Subversive Action Films, question their relationship to the documentary, taking a position as combatants. See here for more information.
The Bombs Case:
On August 14th, 2010, fourteen anarchists and anti-authoritarians were arrested in a series of raids in Santiago in what became known as the `Bombs Case`. They were accused of a series of bombings against capital and the state that took place around Santiago in the previous years, as well as of "criminal conspiracy" under the Pinochet-era Anti-Terrorist Laws. Since then, following a hunger strike by the prisoners, as well as countless solidarity actions from around the world, the charges against nine of the accused have been dropped (one of these people is facing other charges in a separate trial), but charges against five comrades remain. They are: Omar Hermosilla and Carlos Riveros, accused of providing the money to finance the costs of the attacks, as well as Mónica Caballero, Felipe Guerra, Francisco Solar, accused of the placement of the explosive devices at different points in Santiago. The trial continues.