via Bristol Anarchist Federation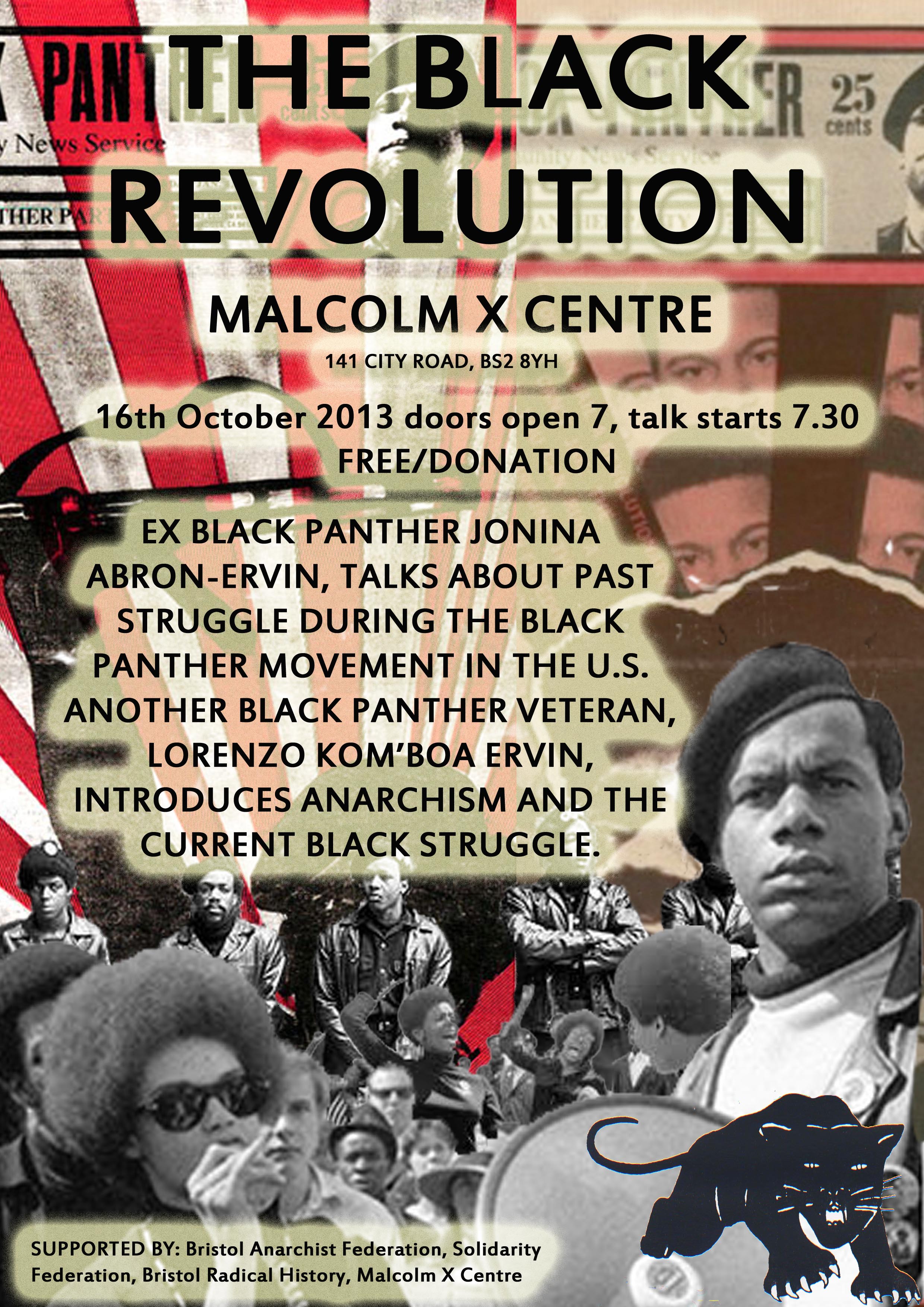 On Wednesday the 17th of October, Bristol will be hosting JoNina Abron-Ervin and Lorenzo Ervin as they give talks on their involvement in the US Black Power Movement and struggles that continue to this day.
JoNina is the author of Driven by the Movement: Activists of the Black Power Era and will speak about her interviews with some 20 Black Power Activists aswell as her own activity in the Black Panthers, where she became editor of the Black Panther Newspaper.  She will detail the experiences of those organising from the grassroots, and participants in radical organisations including the League of Revolutionary Black Workers.
Lorezo was sentanced to life imprisonment after he allegedly attempted to murder a Ku Klux Klan leader before hijacking a plane to Cuba. Whilst in Prison he was supported by the Anarchist Black Cross and wrote Anarchism and the Black Revolution. He has continued to struggle against the Prison Industrial Complex and other forms of state sanctioned racism after an international campaign led to his release after 15 years inside.
Both are currently involved in the Black Autonomy Federation, and anti fascist organising.  Learn how they and other protesters in Memphis faced down the Ku Klux Klan and 500 riot police earlier this year, and the strategies and tactics people across America are using to confront fascism and state repression and build autonomous, anti-authoritarian networks.
When:  7pm Wednesday October 16th,
Where: Malcolm X Centre, City Road/Ashley Road
Cost: Free/Donation
Publicity:  We are currently printing and distributing flyers/posters, if you would like any to put up get in touch.
Facebook: Event for the talk.
The Bristol leg of the tour, which also includes a talk by JoNina hosted by the UWE Feminist Society on Thursday the 17th, and hopefully a further talk by Lorenzo, is Supported by the Malcolm X Centre, Bristol Anarchist Federation and the Solidarity Federation.
If you can't make it to Bristol there are also talks taking place in Cardiff, Birmingham, Nottingham and at the London Anarchist Bookfair.