Bristol ABC anti-prisons themed film night, on Friday 27 February at Kebele social centre, 14 Robertson Rd, Bristol BS5 6JY.
Films start at 7.30pm sharp, to have time to have a discussion afterwards. Hot drinks available, BYO booze.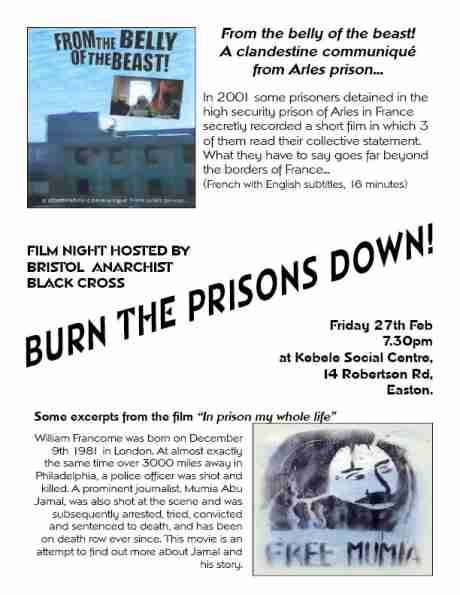 The anti-prison night will include screenings of:
"From the belly of the beast", a clandestine communiqué made in 2001 by some detainees of Arles high security prison in France. To make the film the detainees stole a camera from a workshop and filmed themselves reading a statement about the treatment of inmates, and prisons in general.
"In prison my whole life", is a recent movie about Mumia Abu Jamal. A young British man, born on the night Mumia was arrested, goes on a journey to understand what (might have) happened and puts that fateful night in an American context. The film is very informative, contains interviews with Angela Davis, Ramona Africa, and Noam Chomsky, amongst others. It gives a good insight into the repression of black activists in 70's America, by examining COINTELPRO, the repression of MOVE and the Black Panthers, and the struggle for dignity of African Americans in the United States.
Until all are free!