Public solidarity letter-writing night on 11 August

Bristol ABC's August 2010 list of prisoners requesting support is available here as a pdf: prisoners list_AUG 2010
We are aware these lists may not be 100% correct, especially for international prisoners, but we do try! Where possible the list includes links to support websites and other resources. If you have any confirmed updates or additions please email us. Thanks.
Solidarity letter-writing night – 11 August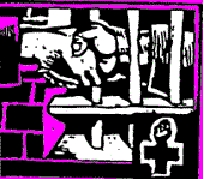 This month we are taking this night over to The Factory, a social space at 2-8 Cave St, St Pauls, Bristol BS2 8RU. We'll be there from 7 to 9pm, so come along and check it out.
As ever we provide lists of prisoners requesting support, along with other campaign and anti-prison info. We ask you to provide the letter-writing muscle. We also know The Factory has some info sheets on prisoners that are well worth a look. Feel free to bring snacks to share.
Coming soon – 6 September at The Cube: PRISON?
"A one man performance written and performed by Charlie Ryder. This is a true story which is creatively told using a variety of theatrical devices including puppetry, masks, physical theatre and dance."
There is a poster (pdf) here Prison_Cubeflyer and more info to follow soon.