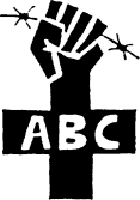 Here is our monthly list of UK & international prisoners welcoming support.
Open office versionPrisoners list_Feb2011
Pdf version Prisoners list_Feb2011
As ever, if you have corrections, updates or additions then email them in to us please.
9 February – prisoner support letter-writing night.
From 7 to 9pm at The Factory, 2-8 Cave St, BS2 8RU
We have lists of prisoners in the UK and internationally who welcome support, along with info on specific cases and campaigns. We will have paper, pens, envelopes and info, all you need to bring is some writing power, and perhaps a donation towards postage. Come along to find out more of what we do, and the benefits of prisoner support. Drop in for a bit or for the whole 2 hours. Hot drinks etc available.
Some Latest News
In Iceland The Reykjavik 9's court case has ended and they await the outcome. In Bulgaria Jock Palfreeman's appeal hearing has ended and he awaits the judges decisions, which should be in mid-February. In Greece, the Thessaloniki 4's appeal went amazingly well and they are all now free…except for Michaelis Triakapis who remains inside for another case. However there are a number of other court cases ongoing, plus more arrests. For the latest reports and prisoner's letters see Act For Freedom, and for the latest list of Greek prisoners see here. In Switzerland there have been recent prison moves for 3 prisoners.
The benefit night on 5 February raised close to £400.00 which will be split between the Thessaloniki solidarity campaign, and the Bristol DA bust fund. Thanks to all those who helped out and came along.
Until all are Free!