Our comrades at Leeds ABC have helped set up a solidarity fund for the 6 UK anti-fascists recently imprisoned for upto 21 months: "A solidarity fund has been set up to support the antifascist prisoners recently arrested. At a time when the state is applying increasingly draconian measures to thwart all forms of political protest and resistance of all kinds it is important that our prisoners are supported."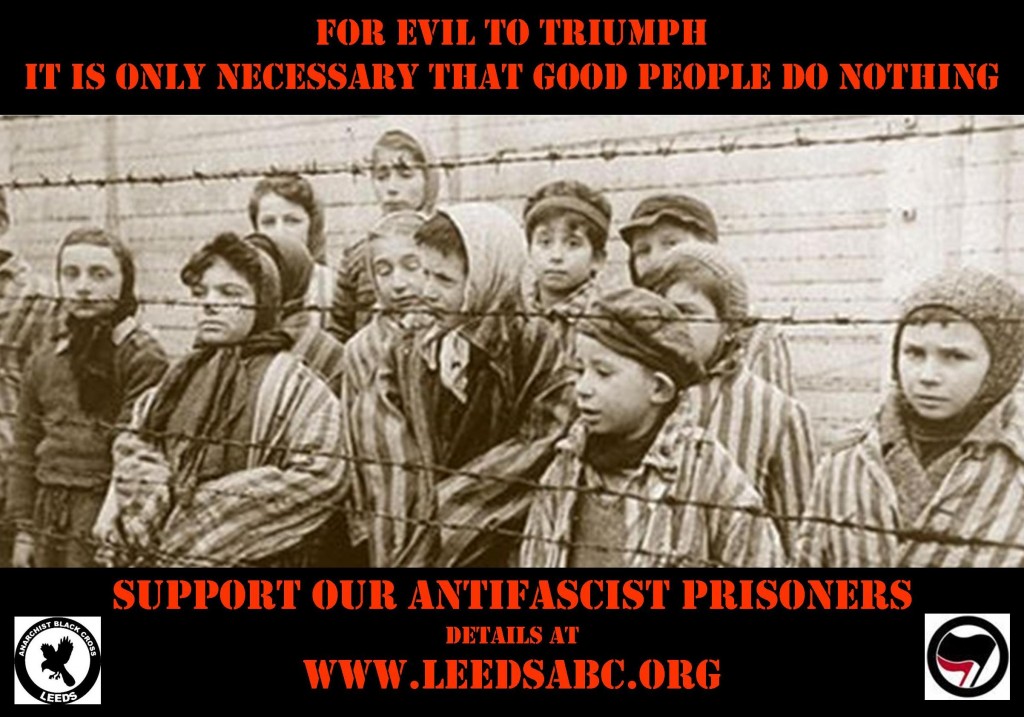 Please send cheques made payable to 'The Cable Street Society', c/o Leeds ABC, 145-149 Cardigan Road, Leeds, LS6 1L
Or pay by bank transfer – details here.

Leeds ABC have been in touch with the prisoners: "These comrades have been fitted-up and deserve our fullest possible support. Please write to them or send a solidarity card. Please send a stamped self-addressed envelope if you would like a reply, or if you can afford it they can receive stamps, stationery, and postal orders (made payable to 'The Governor'). They can also receive books sent via Amazon.
We were gratified to receive a large wad of mail from the prisoners today enthusiastically thanking us for our support. They are absolutely unequivocal in saying that they want to be listed and supported as antifascist prisoners. While astonished that they were convicted, all remain strong and thank everyone for the support they have received. Their main complaint, apart from being fitted-up, is about the notoriously bad food at Wormwood Scrubs!"
The six prisoners will be included in the next Bristol ABC prisoner list due out very soon. For now you can get their full details from Leeds ABC. We can only hope that some right-wing, anti-working class News International executive ends up sharing a cell with one of the six prisoners, and gets to experience some genuine class justice!
Locally here in Bristol, on a much happier note – news is just in that one of our local outstanding and longstanding comrades has just had a case against him discontinued. The ridiculous charges against him arose from a clash last August on the south coast between anti-fascists, fascists, and cops. This is great news and a double bonus for Bristol's local fundarising gig crews cos now his band will be able to keep playing benefit nights!