Self-defence is NO offence.
An International Week of Action has been called by Jock's supporters for the 15 to 20 October 2010 in the run up to Jock's appeal (probably the one and only appeal!) on 21 October. See Jock's campaign website, and see our previous articles about him.
Jock is a young Australian anti-fascist imprisoned for 20 years in Bulgaria, after being convicted of killing a right-wing football hooligan, and wounding another. Prior to visiting Bulgaria in 2007, Jock had lived for a while in Bristol, where he got involved in a number of campaigns. A number of Bristolians visited Bulgaria at the same time as him. The full callout for solidarity with Jock is below, but first here's a few Bristol events to get the ball rolling, along with a local flyer (pdf download) Jock_flyer: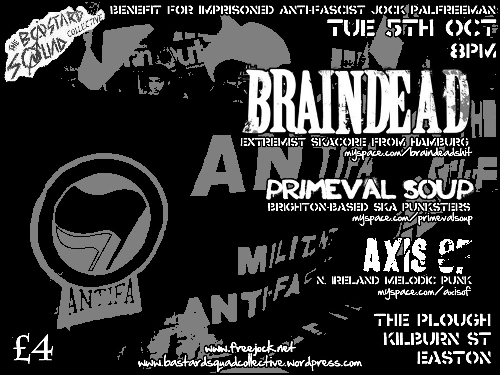 Tuesday 5 October – Benefit for Jock at the Plough pub, 223 Easton Road, Easton, Bristol BS5 0EG. Starts 8pm, donation on the door £4 please. Bands include Braindead, Anarcho Folko, and Axis Of. Organised by the Bastard Squad Collective & friends.
Wednesday 13 October – Bristol ABC hosts a mass letter-writing night for Jock. From 7 to 9pm at 28 Portland Square, St Pauls, Bristol BS2 8RU (ring bell at green side door). A chance to write to Jock, and to the Bulgarian authorities.

Tuesday 19 October – possible Bristol transport to support the lobby of the Bulgarian Embassy in London, which starts at 12 noon at 186-188 Queen's Gate, London SW7 5HL. For contact details check out the 'Prisoner support' noticeboard at Kebele social centre.

Here is the call out issued for solidarity with Jock Palfreeman.
International Week of Action 15 to 20 October 2010 – Continuing the campaign for Jock
Jock Palfreeman is a 23 year old Australian who, on the 27th of December 2007, had the courage to stand up against 16 Nazis on a night out in Sofia, Bulgaria.
He witnessed the fascists chasing and attacking two young Roma boys. Jock ran to the boys' aid, he did his best to keep the Nazis at bay by waving a knife at them but they attacked him. Jock was left with nowhere to run and had no choice but to defend himself. Andrey Monov, one of the Nazis, was stabbed and killed and another, Anton Zahariev was injured. The Roma boys ran away.
Jock has since been tried and sentenced for murder and attempted murder. He has been sentenced to 20 years imprisonment and has been fined 375,000 Australian dollars. Jock has spent much of the time he has already served in isolation due to a legal loop hole used by the prison authorities.
Andrey Monovs father is well known in Bulgaria and at the funeral there were a mixture of judges, police and politicians. Jocks trial was (not suprisingly) a complete sham – yet another example of corruption and secret handshakes in the judicial system. The prosecutions case was built on the witness statements made by the other Nazis that were there that night, all claiming that Jock randomly attacked the group and chased them with the intent of killing somebody. Key people and possible witnesses for Jocks defence were never interviewed by police and the CCTV footage from the scene miraculously went missing. Many of the statements made at the time were not the same as the statements submitted to the court by the prosecution. Jocks statement has remained consistent from the night in question.
You can read Jocks official statement at FreeJock.net. You can also watch a documentary about his case that contains interviews with Jock. Access it via his campaign website here, or at youtube here.

Jock has now been told that he will have only one chance to appeal. This appeal will take place on the 21st of October 2010, in Sofia, Bulgaria.
It is now more important than ever that we collectively put as much pressure on the Bulgarian authorities as possible to accept Jocks appeal. If his appeal is accepted and his charges are lowered to 'excessive use of force during self defence' then he could be released.
From the 15 to 20th October there will be an International week of action for Jock. The more creative the actions the better. If you are short of ideas why not try one of the following:
Organise solidarity actions outside Bulgarian Embassies and Consulates etc. See here for a list of the Bulgarian Embassies and Consulates.

Phone the Bulgarian Embassies and Consulates with your protests. Help us to bombard the Bulgarian Authorities with letters of protest and requests for Jocks appeal to be accepted – please see below for a list of addresses. If you want help to promote your events send the details to: anarchosolidarity@yahoo.com.
Ideally protest letters are best written in your own words BUT we have provided a sample letter (Jock_sample letter ) to download & save, that can be sent if you do not want to write your own. Just add an address, date it, sign it, and post/fax/email it, it's as simple as that. Feel free to reprint it and distribute it to anyone you think may send a copy. If Jocks appeal is accepted it could take anything up to three months for a new sentence to be passed, we have to try and influence their decisions as much as possible on the approach to his appeal and afterwards. We need to get the pressure up and keep it up.
Addresses to post, fax and email your letters of protest to:
Ministry of Foreign Affairs of the Republic of Bulgaria
2 Aleksander Zhendov Str, Sofia 1040, BULGARIA
Tel: +359 2 948 2999
Embassy of the Republic of Bulgaria, 186-188 Queen's Gate, London SW7 5HL
Tel.: (0044) (0) 207 584 9400, (0) 207 584 9433
Fax: (0044) (0) 207 584 4948
E-mail: information@bulgarianembassy.org.uk
Information, Public Relations and European Communication Directorate
Director: Sofia Vladimirova
Tel: +359 2 971 1408  OR +359 2 971 3778  OR +359 2 948 2218
Fax: +359 2 870 3041
E-mail: iprd@mfa.government.bg
Ministry of Justice
E-mail: pr@justice.government.bg
Ministry's Reception Desk: Tel: +359 2 948 2018 OR +359 2 971 1054
(opening hrs 09.30 – 12.00 and 14.00 – 16.00)
Finally, please write to Jock, even if it's only a 'good luck' postcard. Any letters and postcards help to keep Jock feeling positive and high spirited and all are gratefully received. You can write to Jock at the following address:
Jock Palfreeman, Sofia Central Prison, 21 General Stoletov Boulevard, Sofia 1309, BULGARIA